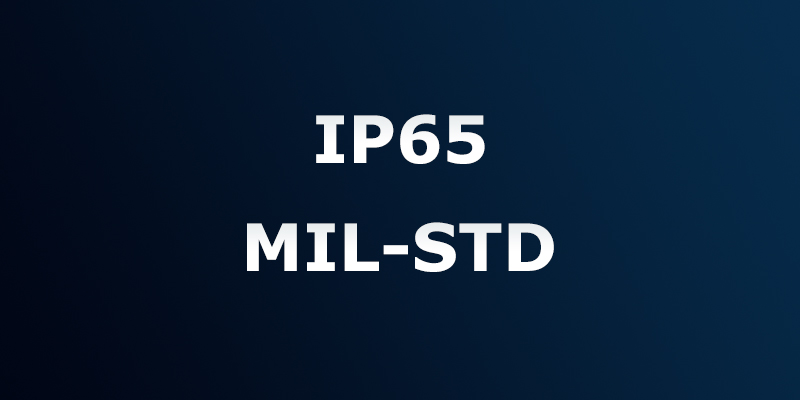 At DT Research, we design rugged tablets to meet or exceed military specifications, providing a product that is durable, highly functional, and secure. Some of the standards each tablet must pass include:
IP65 is a designation that informs the user what level of protection the device has against dust and against water spray from any direction. Rugged tablets need to be able to withstand harsh conditions and this can include in-the-field operations where dust, sand, water, ice, and snow are present as well as winds from any direction.

MIL-STD-461F is a military standard that designates what kind of EMI (electro-magnetic interference) protection the device has. Lightning and ESD (electro-static discharge) can instantly fry a device, so rugged tablets are built to insulate against such events.

MIL-STD-810G is a broader military standard which includes up to 28 different testing methods for use on all kinds of equipment. These tests (of which 8 normally apply to rugged tablets) determine the devices durability and resistance to high and low temperatures, humidity and water droplets or spray, sand and dust, complete immersion, and vibration.
Mass market tablets overall are not designed to withstand extreme conditions or heavy use in the field. They are prone to break readily if dropped or sat on; they dont have strong electromagnetic resistance, and they arent water resistant. For military personnel, a regular tablet simply wont stand up to the testing or in field use.
However, there are tradeoffs for ruggedness. Heavier, thicker casings are required to house them and provide adequate protection. Nevertheless, the size and heft are still good tradeoffs when you dont have to replace each tablet every couple of months, that helps save the TCO.
Durability plus computing power is another benefit of military grade rugged tablets. Custom software can be matched with hardware to make the rugged tablet more functional. The resulting product saves money and effort over time, increasing productivity and streamlining operations while allowing real time communication and data sharing between units in the field and staff at HQ.
Rugged tablets that meet military specs can be utilized anywhere there is a demand for durability and ability, including in the field, on the base, in tough weather conditions, and harsh working environments. DT Research builds each tablet to order, so that the exact options can be chosen to meet the exact needs of every project.