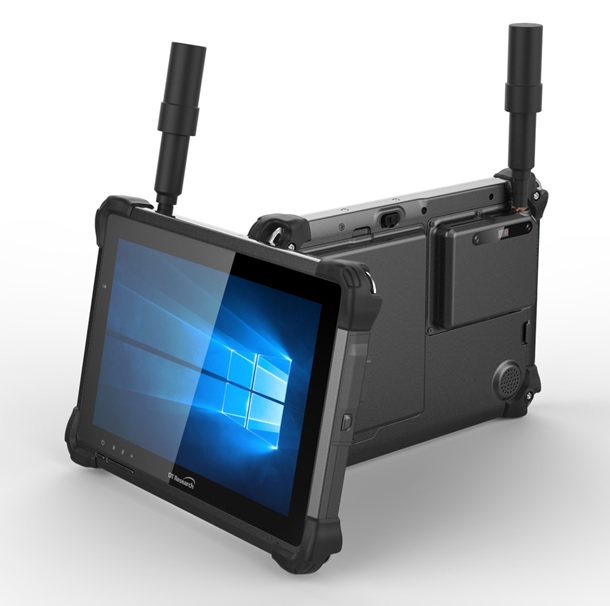 On any given military base, there are a lot of moving parts to track, inventory and know when to reorder. Shipments coming in, shipments going out, parts for vehicles and aircraft, and food and supplies for military personnel.
Rugged tablets built with the 3D RealSense camera is an important tool for military personnel, both for estimation and collaboration in operations and base logistics.
The RealSense camera produces images in 3D, offering the ability to see the world around the base in 3D. This technology is fundamentally re-shaping the future by equipping devices with the ability to see, understand, interact with, and learn from their environment.
The DT Research rugged tablet with 3D RealSense camera, presents key innovations in the rugged tablet space and advances that the utilization of the 3D RealSense camera to help in completing inventory of all aspects throughout the base.
Rugged Tablets built with the 3D RealSense camera integration allow military troops to enhance their capability and productivity in logistics operations on the base and in-the-field. Personnel who are responsible for tracking shipments are able to verify the contents of shipments that are coming into and moving out of the bases, showing volume dimensions, distance measuring, length measurements and gesture control.
The 3D RealSense camera scans objects when they arrive at the base and before they are shipped off the base to ensure accuracy of the delivery and speed up processing time for the containers contents.
Military airlines can also measure cargo automatically utilizing a mobile rugged tablet with the data being processed and made available for personnel in real-time. Other applications include 3D scanning and modeling of assets and facilities.
Machines and gadgets outfitted with 3D cameras or 3D modules can see spatial vision. As of late, military personnel have been preparing missions and supply conveyances to different bases far and wide to an ever-increasing extent. Utilizing a military-grade rugged tablet with a 3D RealSense camera reduces risk, improves efficiency and communication for military personnel responsible for on-base logistics.