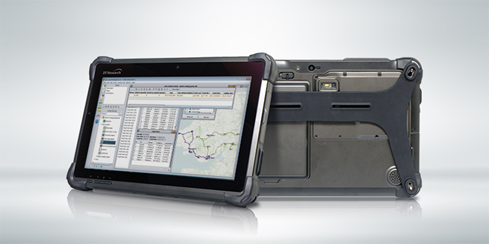 As the world continues to develop advanced technology, more companies adapt to the changes and improve internal operational efficiencies by using the technology to their advantage. One of these developed technologies is the usage of rugged tablets. Reliable, rugged mobile solutions help organizations increase productivity, innovation, and collaboration.
Digital Twin
Digital twin is a connection between the physical and virtual worlds. Digital twin integrates big data, artificial intelligence (AI), machine learning (ML), and IoT with data to create living digital simulation models that update and change as their physical counterpart changes. It can provide new insights into how products can be better designed, manufactured, operated, and serviced. Rugged tablets can enable digital twins to be used in various businesses from manufacturing, construction, warehousing, shipping, automotive, retail, and even in Smart Cities providing a sandbox environment to analyze, evaluate and implement changes.
3D Real Sense Camera
Rugged tablets with integrated 3D camera technology improve productivity by streamlining certain business processes including auto-dimensioning. In a logistics setting, the powerful and accurate 3D RealSense cameras measure freight in any orientation and of virtually any shape, color, or package material. It accurately measures the length, width, and height of the shipment to determine how much space it is going to take up in a warehouse or in the back of a truck.
A 3D RealSense camera built into a rugged tablet can capture 3D scenery and objects, overlaying virtual information into a live image feed. Users can capture depth-based images for applications such as volume dimensioning, measurements, scene capture, and much more.
Why Invest in Rugged Tablets
Rugged tablets are designed to be versatile, reliable, and durable. They can withstand many environmental conditions and are designed with additional security features that include clearance verification and real-time data collection and distribution. Rugged tablets have long battery performance and allow videos or images to be produced clearly on different light settings. With these kinds of device specifications, it is worth investing in rugged tablets as they can be brought from the office, to the vehicle, and into the field withstanding harsh environmental conditions, vibrations and even offer mounting accessories for car or office needs.
A company that invests in rugged tablets has the assurance of saving both time and costs in the long run. Rugged tablets are proven to improve the efficiency of teams by communicating in real-time with information on the network. They aid in the productivity of team members as well by being such a flexible tool for fieldwork. Rugged tablets provide an ROI for the long-term of a company, users productivity, and the companys cost savings.