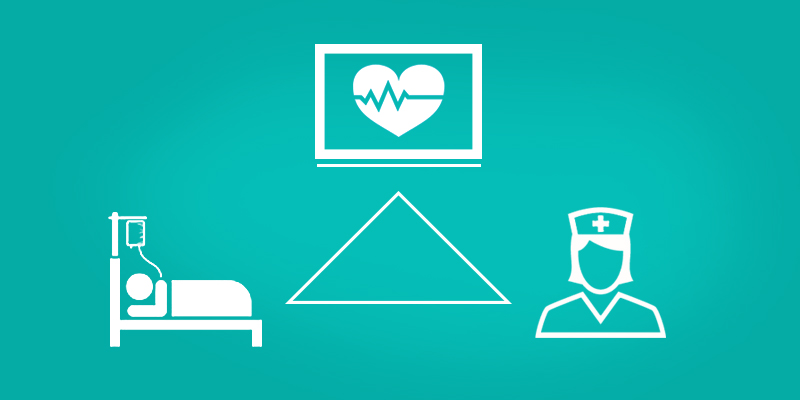 Electronic Medical Record (EMR) systems are digitizing healthcare. Facilities are racing to find and purchase the best equipment that will both safeguard their patients data according to the requirements set out by the Health Information Technology for Economic and Clinical Health (HITECH) act, and give health care professionals better flexibility and functionality to deliver patient care.
IT vs. Caregiver Perspectives
IT departments can be blind to the realities of what their professionals on the floor really need. Many facilities turned to wall or desk mounted PCs in as many rooms as possible, tethering each device to a static location. However, caregivers found mobility to be their biggest advantage, thus PCs mounted on medical carts were considered as an option.
Although these first generation options (often referred to as Computers-on-Wheels (COWS) and Workstations-on-Wheels (WOWS)) promised mobility, the laptop computers often ran out of battery charge mid-shift, causing delays in patient care due to power issues.
In addition, using an off-the-shelf laptop computer on top of a medical cart was found to be problematic, as the practice quickly spread bacteria from room to room within a hospital, due to the computer fan blowing air around. The concept of a consumer grade PC simply mounted on a standard medical cart was discarded, and a new concept was implemented – the all-in-one medical-cart computer.
DT Researchs next generation medical-cart computers have addressed the previous power issues with a hot swappable battery that can be switched on the spot without losing connectivity, and the bacteria spreading issues were also resolved, leading to a cutting edge solution that offers true medical computing at the point-of-care.
The Triangle of Patient Care
There are three points to the triangle of patient care; the patient themselves, the data, and the caregiver. Having an all-in-one medical-cart computer available at the point-of-care allows medical professionals to complete electronic based charting while at the side of the patient. Advantages include:
Real time, on location methodology of data collection and entry. This ensures rapid input of information in a timely manner as well as the ability to double check with the patient when it comes to items like medical histories and allergies.

Optimal layout of the facility thanks to the unit not being tethered permanently to a wall or desk. This allows for greater mobility for staff and physicians who dont have to work around the cart when its not in use.

Suitability for use in conjunction with wall mounts. The all-in-one medical-cart computer can be wheeled in and used as a comparison with data available on a wall mount when time is short and data transfer is minutes that are not to be wasted.

Access across floors and specialties for complex cases. A mobile, integrated medical-cart computer assigned to a complex case can be taken from floor to floor, parked by the patients bed, and charts updated seamlessly when sending information electronically for every move and change isnt time effective or productive.
Efficiency + Productivity + Accuracy = Better Patient Care
NexGen Medical-Cart Computers take the uncertainty and delays out of patient data collection, entry, and sharing. The ability to work on a patient and then enter data without interrupting workflow to find a wall mount or go to a centralized data entry station means that patient care is handled quickly and efficiently and the care is improved by better accuracy and less human error.
NextGen Medical-Cart Computers by DT Research will help facilitate broad adoption of EMR systems, which will significantly improve medical outcomes.