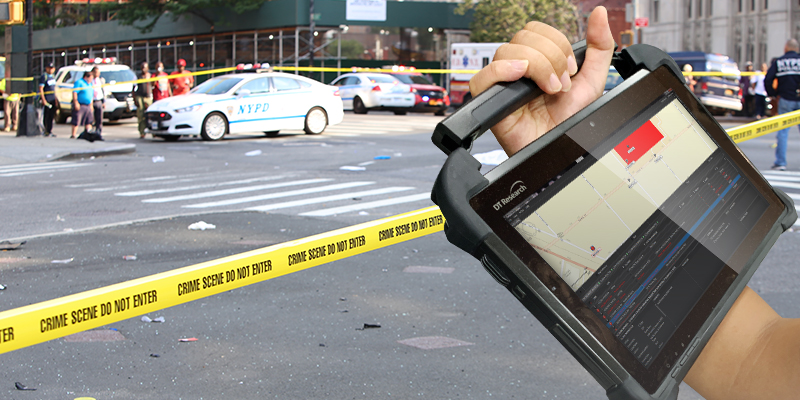 Rugged tablets are designed for on-the-go workers across multiple industries. Rugged tablets provide the greatest value for ruggedized devices requiring minimal IT support, easy setup, and multiple functionalities making it the perfect tool for field workers such as law enforcement officers, construction project managers, and first responders. For law enforcement agencies, officers have access to timely and vital information on-site allowing individuals to quickly and accurately complete reports or respond to various needs with the reliable rugged tablets.
Durable and Multifunctional
To respond efficiently regardless of the situation, first responders need reliable, sturdy, and lightweight devices to work from. Police offers require tools that allow them to work in extreme environmental conditions, as well as in high-stress environments such as accident cleanup where getting a scene back to normal is of high priority.
DT313 rugged tablets are highly durable, multifunctional tablets with a vivid 13.3-inch capacitive touch indoor/outdoor display that is viewable in direct sunlight, which officers find useful in issuing traffic citations and writing collision reports.
The DT313 tablets are high performance, yet energy-efficient with an Intel 8th Generation Core i5/i7 series processor running the Microsoft Windows 10 operating system. The DT313 tablets are FCC Class B, CE, RoHS, and NIST compliant with BIOS available. Each tablet has a high capacity, a hot-swappable battery pack for continuous operation, and a built-in foldable tabletop stand. The tablets can be mounted into vehicles with a vehicle mount cradle and keyboard, creating mobile offices that offer ease of use and flexible placement. Rugged tablets for law enforcement have a range of other accessories adding to the mobility and variety of applications.
Evidence Capture and Data Collection
Rugged tablets can be removed quickly from a vehicle mount or tabletop stand to use outside of the vehicle when it is necessary for officers to respond to a situation on foot. The optional integrated cameras are perfect for evidence capture and initial data collection, especially at crime or accident scenes.
The DT313 tablets include Wi-Fi and Bluetooth wireless communications, which enable seamless information capture, retrieval and transmission from patrol officers back to headquarters in real-time. Patrol officers can check plates, scan drivers licenses, take photos, write reports and check or serve warrants all from the DT313 rugged tablet.
Budget-Friendly Without Compromising Quality
For each agency, budget is an important aspect during the procurement process no matter what is being purchased. DT Research rugged tablets fit the bill offering a high-brightness screen and powerful CPU, these highly durable tablets are compatible with the departments software applications and fit their budget.
For Marysville Major Palmer, DT Research gives us the opportunity to provide our officers with top-notch mobile technology while being fiscally responsible. We plan to expand our use of DT Research tablets to outfit our entire fleet in the coming months.
Rugged tablets open the door to increased productivity and efficiency that go beyond the patrol car. It helps officers do their jobs better and safer. From office work to patrolling, to responding to calls, rugged tablets are key tool for law enforcement.