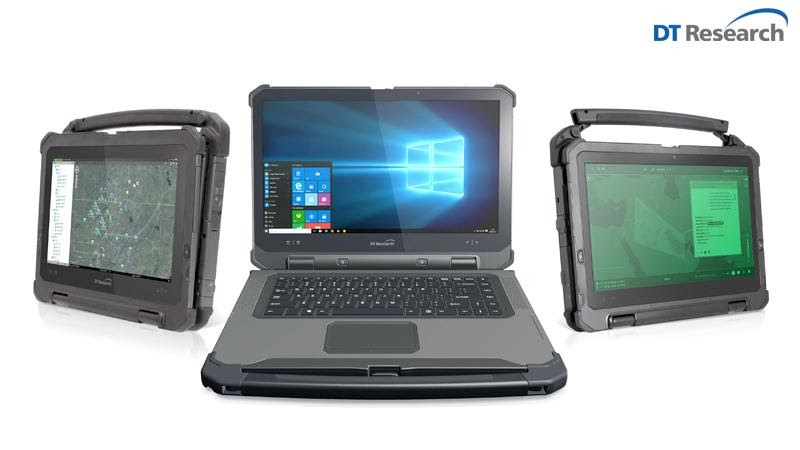 Rugged convertible laptop computers are designed to offer both laptop and tablet functionality all in one flexible device. The design for this rugged, purpose-built machine came from the need of one of our clients who needed a laptop to work from in the office or in the field, but a tablet to work from in small enclosed spaces while maintenance was being conducted on their vehicle fleet. This is part of the reason DT Research is set apart from its competitors – we take the feedback from our customers and design the next product that fits their needs. 
Our strong focus on engineering and design enables us to integrated customer feedback into the next generation of products. By creating a product that that would fit both needs in one, allows multiple functions and applications for customers so they do not have to switch to a different device mid-project. The convertible laptop can be switched into a tablet with ease, great for tight spaces where the rugged tablet needs to be used. 
We offer different sizes to accommodate the needs of our customers. Listed below are the styles and specs for our current convertible laptop series.
The LT320
This convertible laptop is the smallest in size of the three in the series. With a capacitive touch screen that can be used in extreme conditions such as very hot or very cold weather conditions. The screen comes with a backlit option for use in the daylight sun and night vision which means the light of the screen can't be seen by night vision goggles at night. 
The LT330
This convertible laptop is our middle-sized option, with a slightly larger screen for jobs that need a bigger viewing area when working. Built-in smart card reader for an extra layer of security, allowing team members to log in to the network and access information as long as they have the right security clearance. Smart card readers provide one extra layer of safety to protect the data stored in the computer. 
The LT350
This convertible laptop is the largest screen size in the series, offering employees who need a large screen to work from for visually intensive tasks and multiple programs. This tablet comes with an optional 4k resolution screen for viewing and an optional 4k front camera. Offering both a smart card reader and SD card reader.
All three convertible laptop computers are rated IP65, MIL-STD810G/H, MIL-STD 461F – meeting military standards testing to ensure durability and performance in the field. 
Robust, durable laptops that can take a beating are still in much demand by police departments, government agencies, manufacturing, field projects, and everyone who needs a computer with a real, solid keyboard that is part of the computer, a reliable, integrated keyboard with real keys with real tactile feedback. In Rugged PC's review of this series, they highlight the following key attributes as what makes this series stand out in the market. 
Big Screen
Big Performance
Big battery
Keyboard that works
Truly useful 2-in-1
The double-jointed, integrated hinge addresses two issues that have long bedeviled 2-in-1 hybrid designs. First, it allows a true convertible design without being flimsy. And second, as an integrated design, it eliminates not only the top-heaviness of 2-in-1s but also connection reliability issues between two components.
This new line of rugged convertible laptop computers are making big waves for military, governmental agencies, law enforcement, and for first responders. Visit our website for more specs and information on this series of rugged, purpose-built tech.