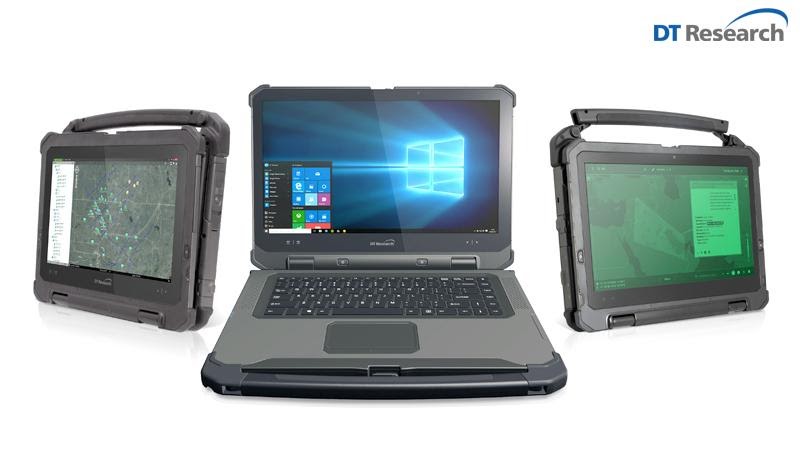 On-the-go professionals need rugged technology they can depend on to work in rugged conditions that could include extreme weather conditions and less-than-ideal locations. Fully rugged convertible laptops were built specifically for the individual who will need a laptop and tablet on the job site, specifically job sites where tight spaces are common. 
DT Research presents the new LT300 line of fully-rugged, 360 convertible laptops designed to be versatile, durable, and reliable in a number of conditions, that are designed and manufactured to operate in the field, tight spaces, warehouse floors, project sites, and many other challenging environments where a "standard tablet" or computer will not perform or are hard to use. 
Convertible Design
The DT Research LT300 series laptops have a unique 360 convertible design that allows users to experience the innovative design of easily transforming from a laptop to a tablet, in tight constrained places. It can be easily converted from tablet to laptop and vice versa to perform well no matter the amount of space at the moment of use. The DT Research Rugged Convertible Laptops feature cameras for accurate image capture and security night vision for light-sensitive situations; it also supports a wide temperature range for extreme weather conditions, has shock and vibration protection that can be used in vehicles and during mission-critical projects.
Key Features
The new LT300 line of fully-rugged, 360 convertible laptops offers a capacitive screen of 11.6", 13.3" or 15.6". It has an Intel® 10th Generation CoreTM i5/i7 processor and a Microsoft® Windows® 10 IoT Enterprise operating system which is flexible to integrated and familiar to use. it also has an 88 standard, full-size keyboard with multi-touch pad, built-in smart card/CAC reader, dual SSD slots, dual RAM slots, swappable batteries, MIL-STD-810G/H for shock and vibration protection,  MIL-STD-461F for EMI and EMC tolerance, and HERO (Hazard of Electromagnetic Radiation to Ordnance) certified.
Uses and Applications
The LT300 convertible laptops are built for military standards and mission-critical environments. With a built-in smart card/CAC reader as well as optional IR/RGB front and back cameras for facial recognition, the series provides an advanced identity verification process for secure data access. While the night vision options offer another layer of security for light-sensitive situations where the tablet can be turned to night vision mode – the screen dimmed so that it cannot be seen at night by others who are wearing night-vision goggles. 
LT300 convertible laptops are ruggedized and military standard to resist water and dust and can withstand a temperature operation of –10°C to 60°C (-14°F to 140°F), and humidity 0% – 90% that is non-condensing. It has a high capacity battery life for continuous operations designed to be "hot-swappable" which is an important specification during a long-term mission. Hot-swappable batteries mean there is no lost downtime or loss of important data during a mission due to a low battery. 
Multiple batteries can be charging at one time and they can be swapped out in real-time without the tablet shutting down or turning off during the battery exchange. This is a revolutionary feature standard tablets do not offer. We designed this feature after receiving customer feedback, another benefit to partnering with DT Research – we listen to our customers and update our products according to their needs.
DT Research continues to be a tablet pioneer and leading designer and manufacturer of tablets to provide customers rapid solutions for a multitude of situations.