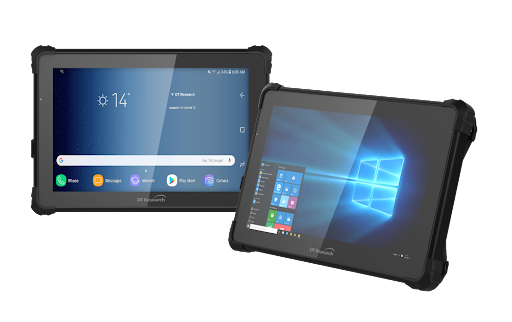 Often our customers are uncertain about which Windows operating system is best for their organization's needs. In this blog, we hope to answer a few of the commonly asked questions we receive about the Windows operating system that comes installed on our rugged tablets.
Windows 10 is available in many editions, however, most of the editions are designed for specific purposes. Let's take a look at the commonly used Windows programs within organizations and their main purposes of use, as outlined below.
Windows 10 Professional
This version of Windows 10 is the version above the home version with more advanced features over the home-based version of Windows 10, designed for the business environment. Features include remote desktop, Bitlocker, Hyper-V, and Enterprise Mode for Internet Explorer.
Windows 10 Pro also allows a PC to be connected to a domain, which is common when IT departments are managing machines in a business setting.
Windows 10 Pro is sufficient for small businesses that don't rely heavily on servers, and who don't need advanced functions of Windows, still allowing computers to be managed in a business setting using tools like Group Policy. Pro is more susceptible to updates, and that can sometimes break the security across a network, requiring IT to fix it. With Windows 10 Pro, you cannot disable Windows updates, only postpone them. With Windows IoT, Windows updates can be individually managed, or even disabled completely.
Windows 10 Enterprise
This version of Windows 10 is used more for corporate environments, offering advanced safety features, virtualization-based security, remote access, longer operating times, and pared-down applications. Windows 10 Enterprise features are mostly designed for IT professionals, who are managing a lot of computers across a network, rather than a small business with just a few computers. Power BI training course is offered by Data Bear on their website.
One benefit for large organizations is the ability to select the Long-Term Servicing Branch which doesn't receive feature updates to Windows 10 – as these updates can cause problems if run often. Therefore this feature allows businesses to select security features that last longer; this is needed for machines that run 24/7 such as ATMs.
ShellLocker AppLocker is another advanced security feature of Windows 10 Enterprise, that allows users to create a whitelist of apps that are allowed to run on the system. This feature is an advanced feature for environments with highly sensitive information on the network. You may hire a flutter developer sydney if you're looking for cost-effective mobile application solutions for your business.
Windows 10 Enterprise includes networking tools that make it easier for businesses with multiple locations to access data across the locations, with trusted system processes.
For organizations with thousands of computers, a dedicated IT team with specific infrastructure and needs that Windows 10 Pro can't handle – Enterprise is the better solution. Group Policy Management included with the Enterprise version is made to configure and maintain a fleet of devices. This can range from having all computers run the same security policy to starting screen group policy (all PC login screens to look and follow the company's policy). In addition, the advanced features of App Locker, Layout Control, Shell Launcher and App Launcher provide additional control over how Windows appears and functions.
DT Rugged Tablets run IoT Enterprise as the operating system, which has a few additional advantages in security and long-term support, linking networks of computers/tablets together so that information is managed and made available to all users within the network in real-time.
IoT Enterprise is important for our customers because of the stability, extra security features, and additional policy control provided.
On the IoT version of Enterprise, Microsoft continues security support. Given that our customer base buys these tablets as a tool, they tend to hold onto tablets much longer than your average consumer would. Examples below:
Windows 10 Home, Pro, and Enterprise support ends 10/14/25.
Windows 10 IoT Enterprise LTSB 2016 support ends 10/13/26.
Windows 10 IoT Enterprise LTSC 2019 support ends 01/09/29.
Windows 10 IoT Enterprise LTSC 2021 support ends 01/13/32.
Other features in IoT Enterprise not in Pro:
Unified Write Filter (UWF): Write protect files, folders or partitions to prevent corruption of data from sudden power loss and stop unauthorized modification of the system – reboot and it will be factory fresh.
USB, keyboard and gesture filters: Manage which USB devices, keyboard shortcuts and gestures are allowed on the system. For example, you can disable Ctrl + Alt + Del or prevent USB pen drives from being detected.
Dialogue box & notification filter: Control which notifications will be seen by the user and provide automatic responses to dialogue boxes.
Our rugged tablets are also built with integrated CAC readers for advanced security features that only allow access to the network by credentialed employees. Rugged tablets can be used in the field, in the warehouse, by logistics teams, and in the office or in a vehicle.
Rugged tablets are durable, reliable and built to withstand harsh climates, making them the go-to choice for small businesses and large organizations across multiple industries.