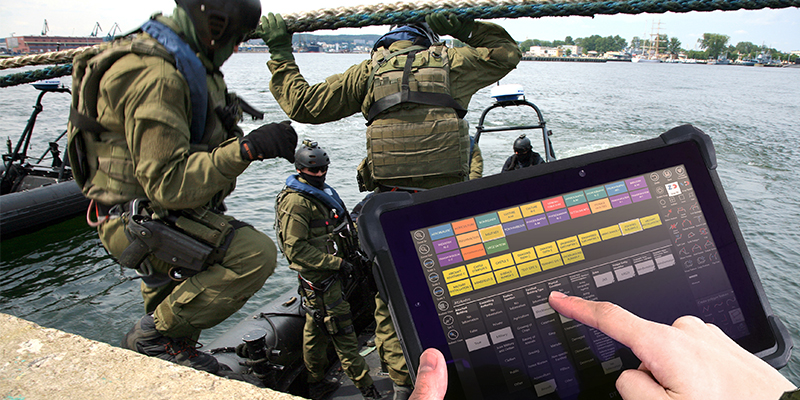 Rugged tablets provide the best option for successfully achieving a variety of military-driven goals, including protecting vital data and safeguarding troops deployed in response to in-theater conflicts. Mobile devices for military use have to be military strong both when it comes to physical construction and in regard to resistance to security breaches.
The success of training exercises, peace-keeping missions, and reconnaissance operations, as well as routine logistics and supply chain maneuvers, require real-time data access in order for leaders to receive crucial, time-sensitive intelligence, make informed decisions, and initiate actions that are swift and sure, informed by the latest and most accurate information available.
Purpose-built, mobile tablets that are resistant to extreme conditions are vital to the success of our troops in the field. DT Research rugged tablets are created with the requirements of the military in mind, providing trusted solutions for the dual challenges of harsh operating environments and the utmost need for secure communications and data transfer.
DT Research has become a trusted solution provider for multiple military branches, delivering tablets that match powerful computing with durable housing that meets military standards across the board. Our military grade rugged tablets provide MIL-STD-810G, and have been tested for IP65 compliancy using real world situational testing to ensure our troops dont experience loss of the all-important ability to maintain communication and data gathering activity during a crucial mission.
Each tablet is designed to:
Retain compatibility with other military technology systems, while securely storing and transmitting mission-critical data via secure networks and resisting harsh environmental challenges like moisture, dust, and vibration
Protect both information and valuable personnel in real-time situations, with media blackout options for sensitive data and the ability to remotely wipe tablets completely in case of loss
Provide new ways to streamline the ongoing transition into modern military requirements when it comes to mobile devices, and train both new recruits and veteran service members for a cohesive tech experience
Data defense is key in todays cyber, ground, sea, and air strategies. A mobile computing solution capable of providing real time, mission critical support is vital at sea, in the air, and on the ground. We believe all military service members should be equipped with devices that wont fail them in the line of duty, and thats why we create trusted rugged tablets that are strong enough to be carried and utilized by the best and bravest.