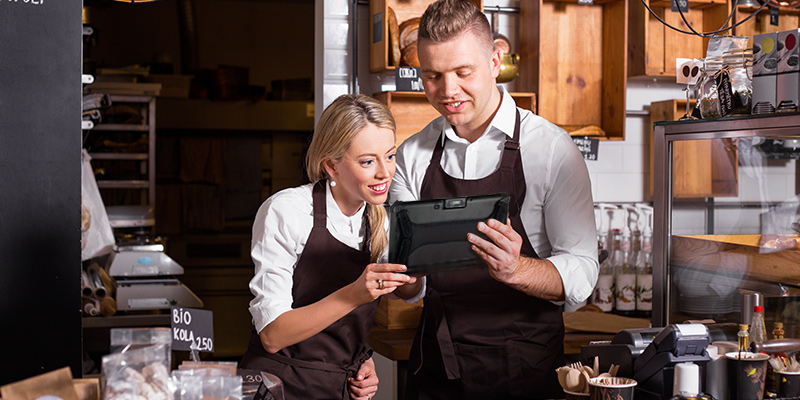 The POS tablets from DT Research feature incredibly powerful processing power in a lightweight, easy to carry and durable forms. These slim 8 inch and 10-inch tablets combine trusted software with the latest hardware to deliver technological capability that shines in hotels, restaurants, and other hospitality venues.
DT Research POS Rugged Tablets provide the following features:
LED-backlight screen with capacitive touch choose from 8 (DT318CR, perfect for one-handed carry in fast-paced restaurant settings) or 10 (DT310CR, ideal for larger screen needs in hotel back ends for floor and room management)
Intel AtomTM processor – the high performance with low power consumption is designed for fast loading and action completion on the floor and off
Operational time is bolstered with long-lasting batteries – which can be swapped on the fly for more floor life and no need to switch tablets between shifts
Microsoft Windows 10 IoT Enterprise or Android 8.1 operating system provides a familiar system and a short learning curve for new employees who can be trained swiftly and efficiently in the use of the technology
Optional EMV Chip-and-Signature card reader allows for POS actions on the floor or in the room, allowing fast processing and verification through all major payment gateways
Optional camera, magnetic stripe reader, and 2D barcode scanner to allow multiple points and routes of data capture and transmission
Restaurant Uses:
Slim, portable DT318CR tablets with extra batteries can be recharged on the fly, with no need to go through several tablets per shift. Parties and tabs can be tracked from the bar to table seating or al fresco dining and back again. These POS tablets are rugged and can withstand harsher conditions and drops in the sand or on concrete. Multi-functionality allows the tablet to be used by a server until closing than handed off to back end staff for inventory and all data can be integrated for clear reporting.
Hotel Uses:
Slightly larger DT310CR tablets with more screen space can be utilized to review maps of the hotel and identify rooms in need of service, empty rooms, booking confirmations, and more. The camera option can also help afford accountability for room service with visual confirmation added to data input whether the bar needs restocking or for maintenance issues. A hotel SEO agency will help boost your hotel's sales.
Handheld POS tablets easily convert to stationary POS terminals when docked in the cradles, allowing for several fixed points on a busy restaurant floor, or the ability to track floor by floor in hotel settings. Tablets also include Wi-Fi and Bluetooth integration to ensure real-time communication and hands-free operation can be instituted for ease of use and higher productivity. From the restaurant floor to the hotel room door, rugged tablets are changing the face of hospitality for the better.