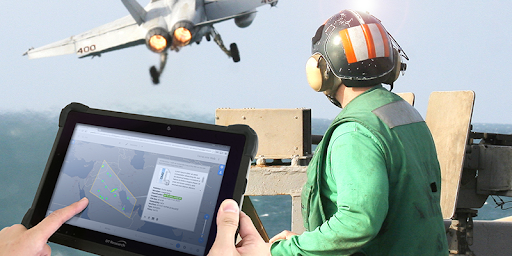 All branches of the military, including the Air Force, are utilizing purpose-built rugged tablets for fleet maintenance, helping to streamline processes, improve workflows, and increase productivity. These portable, high powered tablets have quickly become a way to swiftly and competently manage tasks from inventory reconciliation to standard checks.
Advantages of rugged tablets for plane maintenance include their capability for streamlining processes and workflows among crewmembers and at administrative levels. CAC readers make it easy for multiple members of any group to effectively use the tablet at their own level of data access. Features like cameras, GPS and GNSS modules, and more allow for real-time data in multiple formats to be captured and relayed to specialists for support in the field.
Tablets enhance fleet maintenance and management by:
Providing facilitation of admin-based maintenance tasks for speed and efficiency
Creating several layers of security and redundancy for sensitive files
Automating information collection, sorting, and retention for faster data analysis
All of these improved processes can provide maintenance support across multiple fleets, including planes, ships, tanks, and trucks. Wireless tablets can be pressed into service to feed data from multiple points continuously, providing an accurate picture of the entire fleet and exact, real-time data concerning specific machines.
This can provide Air Force maintenance crews with better connectivity and higher efficiency, with proven data capture and transmission methods and purpose-built tablet deployment for increased productivity for the following tasks:
Technical maintenance management
Warehouse inventory control
Field testing, training, and data oversight
While civilian use of tablets has included swift adoption and innovation, the sensitivity and security of military information delayed full deployment of rugged tablets until experienced designer-manufacturers like DT Research focused on military-grade feature development. Each rugged tablet is built to exacting military specifications for durability and security protocols.
Maintenance and software in military aerospace are now able to benefit from this specification and customization. Touchscreen interfaces and long-life batteries with hot-swap capability are present in the newest ruggedized systems, allowing flight-line maintenance processes for military aircraft to be continually digitized and improved. There are multiple benefits in the air and for reconnaissance, transport, and theater situations as well, with satellite communications (SATCOM) connectivity delivering situational awareness through mapping data, images, and videos.
Full utilization of rugged tablets for fleet maintenance and management in the Air Force brings the concept of a cyber-controlled military one step closer to fruition, guarding the lives of service members and making every process in the line of duty safer.