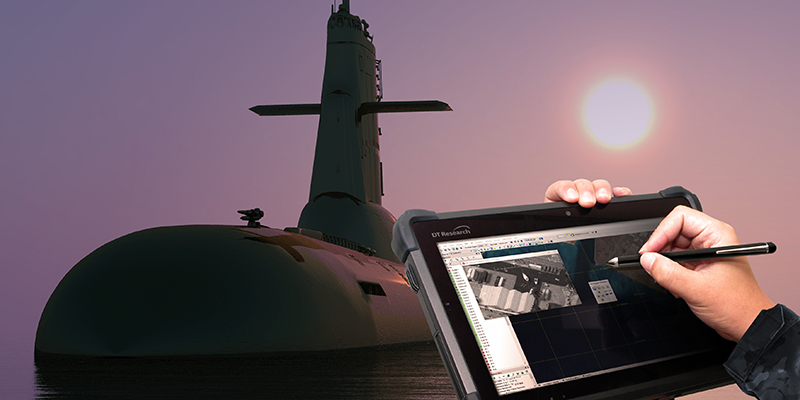 Our military is consistently finding ways to update their technology in order to stay apprised of the ever-changing environment they are in. The US Navy is in need of technology that can keep pace with the frequently moving and continually evolving conditions both on-base and off. Utilizing handheld and portable devices in all branches of the military particularly the naval force is essential for optimal function and efficiency.
In this digital age, the military relies on compact, light and powerful assets that offer mobile functionality with enhanced communication and safety features to protect critical missions. Rugged tablets answer the call of duty for the US navy in providing improved processes, real-time communication and better inventory management both on-base and off. With seamless office-to-field workflow, productivity significantly improves, increasing the efficiency and effectiveness of personnel.
The following are among the highlights of rugged tablets which help drive the military in the digital age:
Managing Military Supply Chain and Logistics
DT Researchs portable tablet technology assists military members in supply chain and logistics management. Military personnel who are responsible for inventory management need the capability to track, monitor and order services and resources quickly when needed.
Food, equipment, fuel, and vehicle maintenance are among some of the important items that need to be tracked on base. DT Research rugged tablets optimize the ability to plan for vehicle maintenance, track deliveries, and manage when and where supplies are at any given moment on the base.
If logistics arent functioning at full capacity on the base, many operations are affected. Rugged tablets allow for accurate, real-time inventory tracking, and confirmation of supplies and mail, providing a streamlined system that keeps all processes moving smoothly.
Security and CAC Readers
Military-grade tablets incorporate lockdown features to ensure against malicious users or potential threats to the network. DT Research combines the Windows 10 IoT Enterprise software security with its proprietary hardware security, including instant blackout, as well as automatic disable functions for Bluetooth, RFID, and Wi-Fi that can be pre-configured to turn off all radio capabilities under certain conditions.
The naval force, likewise, fortifies their security with quick and accurate identity management for data access, with the use of Common Access Cards inserted into a smart card reader built into the tablet. CACs are given as standard identification for active-duty military personnel, reserve personnel, civilian employees, non-DoD government employees, state employees of the National Guard and eligible contractor personnel.
Durability
DT Research Rugged Tablets are full-featured, high performance, and fanless, delivering increased durability and productivity. Each tablet is manufactured with durable material that can be used in extreme weather conditions from extreme heat to extreme cold temperatures. Each tablet is built to withstand dusty or sandy environments.
Military-grade tablets aid all service branches in a wide variety of uses including scheduled vehicle maintenance, fleet management, and inventory management.
Many of these activities take place in remote locations requiring specialized, ruggedized mobile computing devices that are built with durability to withstand demanding environments. Rugged tablets provide flexibility, stability and process efficiency.