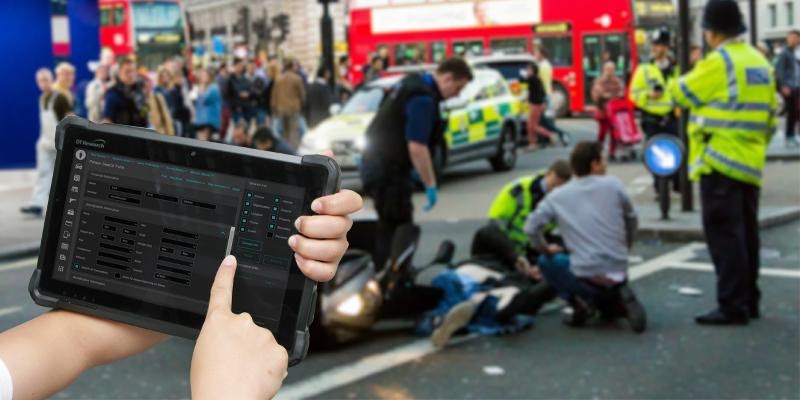 During COVID-19 it is important for first responders to take precautions when on-the-job to protect themselves from becoming sick. Thus, they have sought various ways to address the challenges of protecting and serving their communities and even protecting themselves.
The first responder community responded quickly to the needs and demands of their responsibilities. Ensuring the internal safety for teams across the country was a top priority, while still addressing day-to-day operations like checking in, and clocking out for the day, first responders started using Virtual Roll Calls.
Police Briefing
Wireless technology, the internet, and advancements in mobile technology have made it possible to transform this indispensable law enforcement briefing. Virtual roll calls can be done with tablets or other smart devices that have front-facing cameras and/or display to view shared screens, whiteboards, documents, etc. It eliminates roll call gatherings within a confined space of a station house or roll call areas where other staff and civilians could be. It allows the use of simple well known web-meeting tools like Zoom, GoToMeeting and Microsoft Teams or more custom and secure 3rd party tools.
Dispatch and communication
In cases of emergencies, the Virtual Roll Call system can contact the officers or first responders over one or more communication networks. The station can request the officers to provide their status and the officers can send status updates all within the network. The system can compile the information and generate reports on both group and individual status. Virtual roll calls allow the same critical information for the day to be communicated to patrol which allows flexibility for when roll call occurs without having to have everyone pulled from patrol areas and allows quicker deployment to patrol areas.
Day-to-day operations have changed quite a bit for first responders given the outbreak of COVID-19. Tactics have changed, approach to deployment has changed, the ability to be in a designated area with co-workers has changed and the functions of actually responding to a call have changed. First responders, now more than ever before, need technology that supports the flexibility of the ever-changing needs of their environment.
Rugged tablets have answered the call of duty, allowing changes to be implemented quickly for first responders to go virtual and be mobile for many of the tasks they need to fulfill daily. Rugged tablets allow for real-time communication with teams, dispatchers, and office personnel. There are advanced security features built into the tablet to ensure vital documents are secure and can be accessed as needed by any member of the team.
The mobility of rugged tablets makes it easy for first responders to transition between the field, the office, and even carry them home when needed. Rugged tablets are built for durability to withstand falls, dust, the vibration of the vehicle and many other key factors that regular consumer tablets do not have. When the job calls for technology that supports the daily functions of first responders, rugged tablets by DT Research are ready and willing to answer the need.
Our rugged tablets are supporting the ever-changing demands of first responder needs through the COVID-19 challenge and beyond.