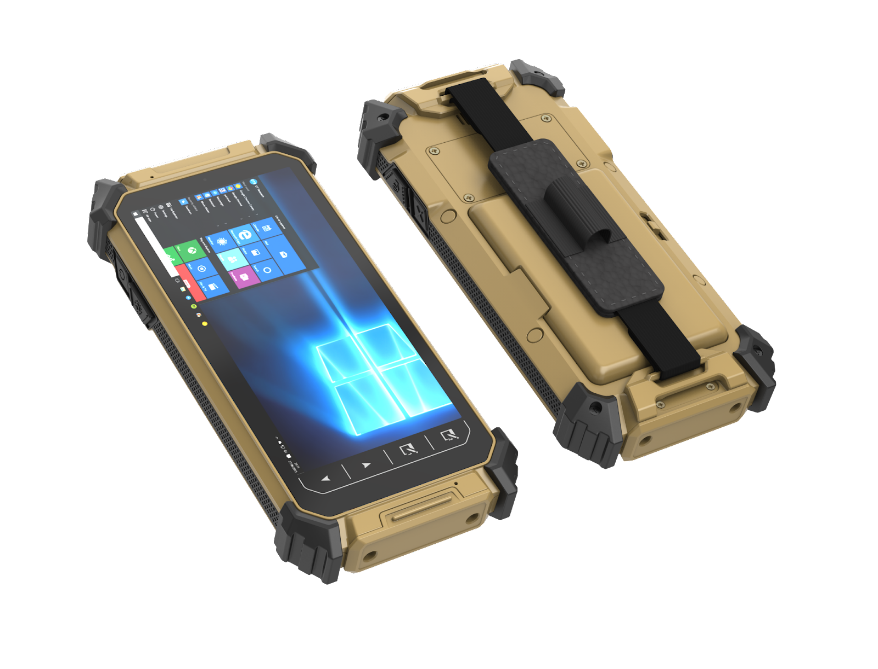 Mission-critical environments require tactical tablets that can perform in demanding environments while also maintaining a level of privacy during the mission and real-time communication among teams. The newest rugged handheld tablets from our team are designed and manufactured to perform for the mission.
These highly robust, yet compact tablets weighing only one pound are purpose-built for mission-critical environments and designed to secure to a tactical vest for easy access. "These unique handheld tablets showcase our innovative design capabilities to deliver purpose-built mobile solutions for military tactical operations, law enforcement, and other mission-critical field use cases," said Daw Tsai, president of DT Research.
Walkie Talkie Feature:
The DT361AM and DT361AD tablets provide hands-free walkie-talkie communication, enabling a user to easily speak to many people simultaneously through the built-in speaker/microphones and effectively communicate in noisy environments. This allows for real-time communication when troops are on the ground, to communicate as situational changes occur in real-time. Real-time communication is crucial for real-time decision making, to ensure plans can change as circumstances shift to keep the mission on target.
Night Vision:
When military personnel are deployed into the field, privacy of the devices they are using is crucial. If personnel are looking at a tablet screen and the screen is too bright at night, they can be seen from a distance. On the other hand, if a screen is not bright enough in direct sunlight, important details for the mission could be missed or entered incorrectly. Night vision capabilities offer personnel in the field the ability to utilize a tactical tablet mid-operation without being seen, even by night-vision goggles. Furthermore, the screens can be brightened for us during daylight hours.
Durability:
Reliability is the key to rugged technology for the military. Should the technology break or stop working mid-mission, everyone on the team and the mission could be compromised. This is why we manufacture rugged tablets that are held to the highest standards. Our tablets are IP65-rated for water and dust resistance and MIL-STD-810H for shock and vibration protection. The DT361AM and DT361AD are tested to operate in environments of up to 122 degrees Fahrenheit and can be safely stored in temperatures as low as -4 Fahrenheit. We offer hot-swappable batteries for continuous operation 24/7 without the tablet going down due to a dead battery or during the process of the battery being changed. 
Advanced Identification:
Security features are built into these tactical tablets to protect the information stored on the network. A built-in Common Access Card (CAC) reader provides two-factor authentication by matching a user's smart card with a personal identification (PIN) number. CAC readers also meet the requirements for data encryption and digital signature technologies to provide secure logical access to computer systems and networks. 
When the military needs durable, dependable, rugged technology they can use for mission-critical environments, they turn to DT Research. We listen to their needs, frustrations, and desires based on what they currently do not have from their technology and go back to the "DT lab" to design, build and manufacture tactical tablets that provide robust functionality, with durability they can rely on when they need it the most.
For more information about the 361AM and 361AD tablets, visit our site or check out our press release with all the features and benefits.