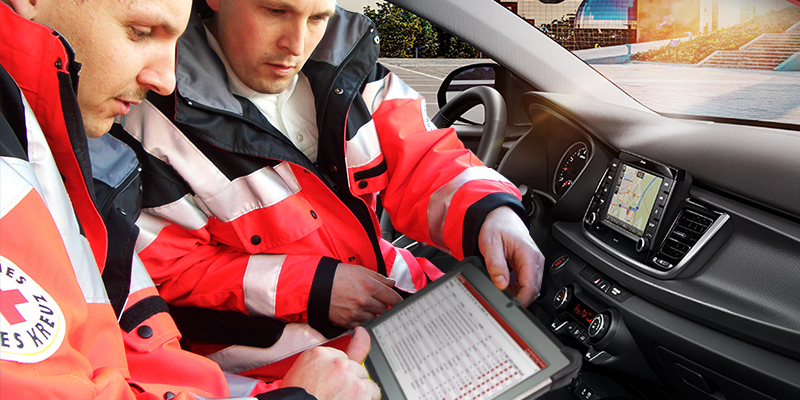 First responders are becoming more reliant on fast technology that enables them to provide more efficient customer service. As times are quickly changing to a need to service more customers while maintaining quality care, durable technology is the answer for real-time communication, more efficient billing processes, and improved patient care from transport to hospital.
Rugged tablets allow first responders to accurately document all interactions upon arrival at the scene, rugged tablets then allow for documentation at the scene and during transport so that hospital staff can connect and fully be aware of the patient's condition prior to arriving at the facility. Everyone on the network has access to all data entered onto the network for real-time communication that allows faster and improved patient care.
Rugged tablets are durable and reliable with advanced security features that ensure ultimate protection and privacy of patient records. Rugged tablets meet HIPAA compliance standards, with built-in CAC readers to ensure personnel has access only to the files they have the security clearance to access.
Rugged tablets are lightweight and portable for easy transportation at a scene, to be written on, drawn on, or have data entered, it can also easily be transported in a vehicle and used while en route to a facility or location.
Rugged Tablets Provide Multi-Use Functionality
Mounted in an ambulance – when a person has called for an ambulance, oftentimes they need to be worked on while in the vehicle during transport. Rugged tablets offer first responders the ability to log vitals and conditions into the tablet in real-time. During transit, the tablet can be mounted in the back of the ambulance so information can still be put into the network while a patient is being attended to. Hospital staff can be aware of what the conditions are and what has already been done so they are ready for the patient upon arrival and already caught up on the medical condition.
Handheld in the field – Whether a first responder or law enforcement officer needs to use a rugged tablet in the field for attending to a patient or documenting a scene, rugged tablets are portable and lightweight enough to be carried from a vehicle into the field. Thus allowing first responders to have mobility and flexibility to do their job wherever their job takes them.
Mounted in a police car – vehicle mounts for police cars turns the police car into a mobile office. Preventing the impact of vibration and shock from the car, while allowing law enforcement officers to work virtually from their car with ease. Detachable keyboards and easy-release mounts make it simple for the tablet to be taken back into the field to cite traffic violations, or document an accident scene.
"The DT313T tablets have Wi-Fi and Bluetooth wireless communications, so we have seamless information capture, retrieval, and transmission from patrol officers back to headquarters. Officers can check plates, scan driver's licenses, take photos, write reports and check or serve warrants all from the DT313T rugged tablet." – Major Michael Palmer
Rugged tablets are the durable, reliable technology first responders can count on when they need it the most. From accurate data entry to faster medical billing to improved customer service, DT Research and its partners provide excellent service, hardware that lasts, and software that aids the flexibility for each application and project that needs reliable technology.