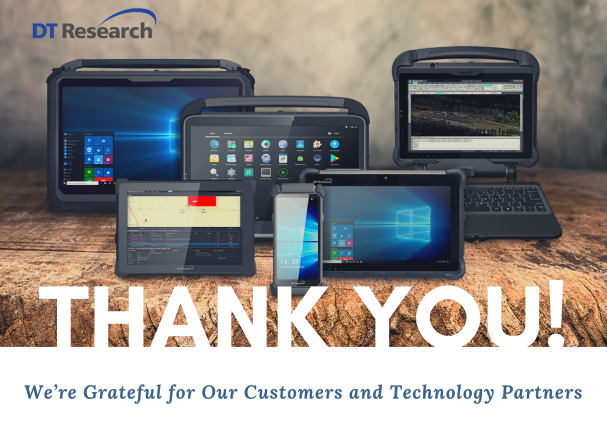 As Thanksgiving approaches quickly this year, we want to take a few moments to show our appreciation for the people and companies that make a difference in our business. We couldn't do what we do best without our trusted partners who offer software solutions or create value-added solutions to our products for their clients.
We know the last two years have been really challenging in many ways for businesses across every industry. We appreciate continuing to serve our community through our partnerships. Today we want to say THANK YOU! Thank you for continuing to put your trust in DT Research to manufacture hardware that is used across the world to assist in fighting the pandemic, streamline workflows, and provide durable reliability for some of the toughest jobs on the planet.
The challenges of digital transformation go beyond hardware. To turn a rugged tablet into a business-ready productivity tool, a suitable partner ecosystem must be built in order to give a complete end-to-end solution. We are proud to work closely with leading software and other solution providers to create turnkey solutions that address specific industry needs, in areas including public safety, fleet management, manufacturing, asset management, construction, hospitality/retail, medical systems, and the military.
To Our Resellers
Thank you for staying with us this year through all the ups and downs. We are truly grateful for you choosing our products as your selected rugged tablets that enable you to serve your clients. From healthcare to logistics, to first responders we are grateful for each one of you who trust in DT Research to manufacture durable, top-of-the-line products for your clients. Thank you for your continued support and business. We continue to stand with you.
To Our Technology Partners
Thank you for working side by side with us to continue offering technology and software that effortlessly integrates with our computing hardware. We appreciate you sticking with us this year as we continue to serve multiple industries when they have needed us the most, during two of the most trying years many businesses have seen. We appreciate working with each and every one of you to collaborate on complimentary systems that allow our clients to continue finding the solutions they need for their employees and workflow. 
To Our Customers
Thank you for continuing to work with us to ensure we deliver the best products for your needs. Your valued continual feedback and openness to share how to improve our products makes the relationships we have with each one of you invaluable. 
For DT Research, toughness isn't the end game…it is just the starting point; it is the foundation for a purpose that is far-reaching, high achieving, and uniquely defined by organizations.
And with our customers and partners in technology, job performance and career aspirations are reached at their highest level with our purpose-built tablets that are perfectly matched and oftentimes customized to fit their needs.
To each and every one of our partners, resellers, and customers, we know it has been a tough couple of years, but today and every day we want you to know how appreciative we are to work with you.  
May we continue our relationships well into the future and for many years to come.
Wishing all of you a Happy Holiday season!