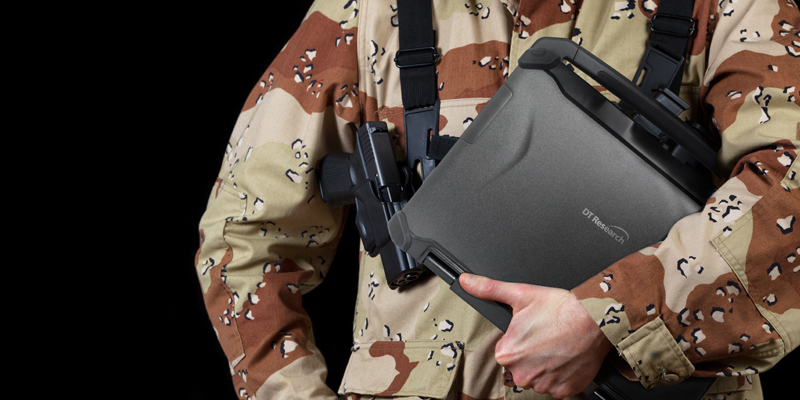 Prior to tablet technology, when a portable computer was required for a lengthy amount of time, the only option was to use a laptop. Then, as mobile CPUs became more powerful and operating systems became more flexible, there were choices: stick with the traditional clamshell design or choose a tablet, which provided less functionality and power but more convenience by eliminating the keyboard entirely. 
It was only a matter of time until creative manufacturers recognized that swapping out the keyboard was all it took to transform one device into another. The 2-in-1 that resulted is now not only its own product category but also one of the most popular in the PC industry.
Reasons the DT Research L300 Convertible Laptop is best in class:
360 Screen Rotation
The convertible laptop can quickly transform from laptop to tablet and back again, with most systems featuring a hinge design that allows for rotating the keyboard portion through 360 degrees, out of the way back behind the screen. This type of 2-in-1 is the best choice if you're planning on using the keyboard a lot, as you're guaranteed to always have it with you. This design is specifically efficient if moving from a larger space where you are using a laptop, to a tighter space where a tablet is needed, the change can be made quickly with minimal effort. So you have the device you need when and where you need it.
Built-in Smart Card Reader
While we are familiar with laptops that come with fingerprint scanners and other features that provide an added layer of security, there are also laptops with integrated CAC smartcard readers. Computers with CAC card readers help companies protect their staff against attacks that compromise access to passwords since a smart card would be required to unlock such a computer even after the password has been entered. The LT320, LT330, LT350 rugged convertible laptops also include two-factor authentication (built-in smart card/CAC reader with NIST compliant BIOS available) and network communication (built-in Intel® AX200 Wi-Fi, Bluetooth 5.1 LE, and 4G LTE/AWS mobile broadband).
IP Standard Rating
DT Research convertible laptops deliver a military standard IP65-rating for water and dust resistance; MIL-STD-810G/H for shock and vibration protection; MIL-STD-461F for EMI and EMC tolerance; and are HERO (Hazard of Electromagnetic Radiation to Ordnance) tested. Temperature operation: 14°F to 140°F, optional -22°F to 140°F; storage: -67°F to 158°F and humidity 0% – 90% non-condensing. DT Research L300 convertible tablets are durable, reliable, and are designed and manufactured to operate in the field, tight spaces, warehouse floors, project sites, and many other challenging environments where a "standard tablet" or computer will not perform or are hard to use.
Optional Front 4G Camera
DT Research L300 convertible laptops have optional front 4G cameras for image capture, communications, video conferencing, and data collection. The front full-HD cameras with auto white balance and gain/exposure control enable facial recognition security. With a built-in smart card/CAC reader as well as optional IR/RGB front and back cameras for facial recognition, the LT300 series convertible laptops provide advanced identity verification for secure data access.
Antimicrobial Coating
The LT300 convertible laptops have antimicrobial enclosures to control infection. The infection control – antimicrobial enclosures inhibit the spread of microorganisms, such as bacteria, on the surface of the units. This prevents the spread of bacteria and reduces the spread of infectious diseases even if they are not cleaned between uses.