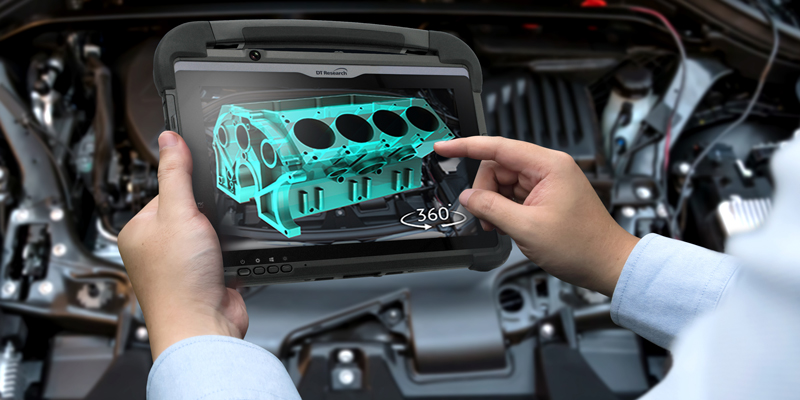 As the end of the year approaches, many teams across various industries converse about their products, programs, and the tools that are used to perform various job responsibilities. Taking inventory at the end of the year and reviewing how everything is working is a great way to make needed changes for the upcoming year to set teams up for success.
Part of ensuring teams are successful is making sure they have the right tool for the job. Rugged Tablets from DT Research are purpose-built tablets that are designed and manufactured for the job they are built for. When teams have the right tools, they are more efficient with their job, more productive, and overall have better performance.
Our range of products is built with the end result in mind. How can we enable teams across multiple industries to perform their job functions with improved accuracy, speed, and efficiency? By answering these questions and gaining feedback from our customers to continue making updates and improvements on the next generation of our product lines, we outfit teams with the appropriate technology tools they need to perform their jobs and produce great work.
Rugged Tablets
As a leading manufacturer of rugged tablets for multiple industries, we build reliable, durable tablets with all parts integrated into the tablet so it can be used in harsh environments, in the field, and in vehicles where a mobile office is crucial to getting the job done. Each tablet has a 3D RealSense camera for scoping and surveying. Barcode and RFID scanners for inventorying, CAC Reader for additional security, and capacitive touch screens with sunlight dimmers so they can be used both day and night. 
Medical Tablets and Carts
Healthcare professionals depend on medical cart computers and medical tablets in a hospital setting to treat patients with optimal care. Antimicrobial enclosures reduce the spread of bacteria and germs in the healthcare setting. Medical tablets and carts offer unparalleled mobility for healthcare personnel to move from room to room with ease, with integrated CAC readers that offer additional security for credentialed logins to review or update patient data.
Convertible Laptops
Built for tight spaces where a laptop is needed with a keyboard but also a tablet when performing a function in a tight space. The convertible laptop can quickly transform from laptop to tablet and back again, with most systems featuring a hinge design that allows for rotating the keyboard portion through 360 degrees, out of the way back behind the screen.
Offering a wide range of screen sizes including 6 inches, 10 inches, and 12 inches depending on the needs of viewing the screen. Each of our tablets is rated IP65, MIL-STD-810G for durability and reliability. Our tablets need little maintenance unlike consumer-grade tablets and withstand harsh conditions for several years before replacement of the device needs to be reviewed.
We stand by our product and our customers, accepting feedback from customers to offer continual improvement.