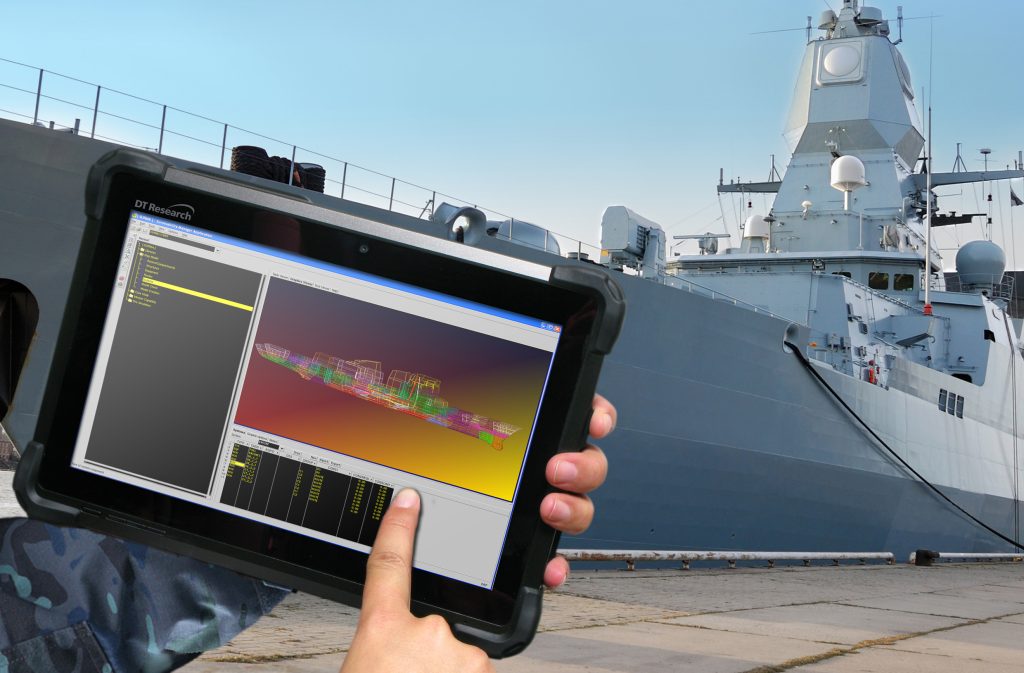 C1D2 certification is a certification received for rugged tablets that stand the ultimate test of durability and hazardous environments. Not all tablets are created equal, in fact, many don't come close to passing this and other durability tests, which enable reliable performance for use in places such as warehouses, manufacturing floors, production lines, and hospitals.
DT Research rugged tablets with C1D2 certification are manufactured and designed with the ultimate test in mind – one that if they are around hazardous materials – will not only survive the conditions but also not aid in any destruction during the process.
This certification is an important one for us, and for our clients, because it is proof that we go the extra mile when considering durability and reliability – not just in designing and building a tough tablet – but in also making sure it will withstand a dangerous spill, leak, fire, or other catastrophes.
This certification offers our customers peace of mind when using the tablet in an environment where ignitable concentrations of flammable gases, vapors, or liquids might exist, such as aircraft hangers, chemical and gas handling areas, dry cleaning facilities, food processing, paint manufacturing and spraying facilities, petroleum and gas processing plants, military environments, and textile mills.
This is especially important for the US Navy when choosing their tablet technology for personnel to use on the base and in the field.
On the Base:
From laundry facilities, to ship maintenance, to vehicle repair shops there are a variety of potentially hazardous environments where crews need technology that is designed to withstand these harsh environments. This might be one of the deciding factors when the US Navy was choosing their rugged technology and chose the DT Research rugged tablet for their projects. This C1D2 certification makes it possible for the tablet to be used in tight spaces and harsh environments where drops, spills, and gases may be present without the worry of explosion or melting of the tablet.
In the Field:
There are a wide range of environments to encounter on a mission in the field. For this reason, the US Navy is assured to know that their rugged technology can go the extra mile and still withstand harsh climates from being used in the field. No matter what situation they encounter, our military-grade tablets will not back down, and they will provide reliable performance to ensure the mission is fulfilled.
CID2 certification ensures the DT362 and DT301 Rugged Tablets have the following safety features:
Hermetically Sealed: Fusion sealed to bar against the entrance of external atmosphere.
Non-incendive Circuit: Circuits that are not capable of igniting flammable gas–air or vapor–air through an arc or thermal effect produced under the intended operating conditions of the equipment.
Non-incendive Component: The contacting mechanism for the component is constructed so that the component is incapable of igniting the specified flammable gas–air or vapor–air mixture.
Non-incendive Equipment: The electrical/electronic circuitry is incapable, under normal operating conditions, of causing ignition of a specified flammable gas–air, vapor–air mixture due to arcing or thermal means.
Non-sparking Apparatus: Apparatus that has no normally arcing parts or thermal effects capable of ignition.
Purged and Pressurized: The DT301 Rugged Tablets are purged with a protective gas at a sufficient flow and positive pressure to reduce the concentration of any flammable gas or vapor initially present to an acceptable level and pressurized with a protective gas at sufficient pressure to prevent the entrance of flammable gas or vapor.
We continue to design, build and manufacture rugged technology that is built with our customers in mind. We analyze the situations they may encounter or have needs for and create a solution that is guaranteed to outshine our competition with durability and reliability – no matter the environment the tablet is used in.