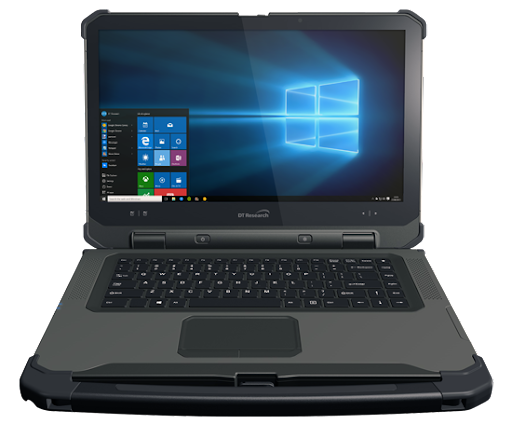 When it comes to their equipment, police, firefighters, and EMS professionals all face particular challenges while in the field. They require the most durable tablet or laptop that can handle the demanding—and occasionally harsh—facets of the job and still perform flawless navigation, communicate with a central command station, and provide data-driven decisions.
Why Rugged Convertible Laptops for Law Enforcement and First Responders?
IP65 rating and MIL-STD-810G Standard
MIL-STD is a durability standard created by the US Department of Defense that specifies all performance tests to ensure that products meet specific requirements for various military purposes. In addition, Ingress protection rating (IP) defines the computer's resistance when subjected to a dirt/dusty environment, moisture, and water splash.
Wherever duty takes you, the DT Research LT series Rugged Laptops are built to go with you. These durable laptops are certified for shocks, drops, and vibrations according to MIL-STD 810G and have IP65 classification. The LT series convertible rugged laptops are ideal for public safety and military applications due to their ability to endure repeated drops, harsh temperatures,  humidity, and exposure to water and dust.
Mobility
Purpose-built for field office and constrained spaces, the LT Convertible Rugged Tablets have a large touch screen size, offering employees who need a large screen to work on visually intensive tasks and multiple programs. This laptop-tablet comes with an optional 4k resolution screen for high-performance graphics viewing and an optional 4k front camera. Offering both a smart card reader and SD card reader. It is also complemented with a wide array of fully-integrated data capture like the SD card reader, or smart card/CAC reader. For maximum functionality, users can also choose from a wide range of complementary accessories such as digital pens, battery charger kits with AC adapter and power cord, high-capacity battery packs that are convenient for field use, and vehicle cradles for mounting in cars, trucks, and other vehicles.
Why DT Research Rugged Convertible Laptops?
The LT Rugged Convertible Laptops feature a convertible high-bright screen – 11.6" 13.3", or 15.6", an Intel® Core™ i processor, and a full-size backlit keyboard with multi-touch pad. With a built-in smart card/CAC reader, the LT Rugged Laptops provide advanced identity verification for secure data access. The night vision option supports viewing MIL-STD-3009 class B NVIS mode, offering another layer of security for light-sensitive situations or where tablets need to be used at night in a discreet mode. Rated IP65 and MIL-STD-810G, supporting a wide temperature range, the LT Rugged Laptops provide reliable operation in harsh, mission-critical environments.
Key features:
MIL-STD, IP, and HERO-certified rugged laptops mounted on vehicles for remote network information access, coordination with dispatch, and communication.
Extreme situations can be managed thanks to the outstanding durability of solid-state computing and heavy-duty casing.
For in-car office operations, pair with our adaptable vehicle mounts. (Can be locked in place for safe use and also quickly undocked for convenient mobile computing)
Water-resistant, shock-proof, and drop-protected, can be operated in many conditions.
Cost-effective to own and operate, and have a longer lifespan than a commercial-grade laptop, making them ideal for municipal budgets.
Comes with built-in security components that are ideal for law enforcement, such as IR/RGB front cameras for facial recognition, smart card/CAC readers for instant security access at the designated level, and optional class B NVIS mode for night vision.
Rugged laptops open the door to increased productivity and efficiency that go beyond the patrol car to include officers on foot or on motorcycles, bicycles, and horseback. This can not only help officers do their jobs better, but also lead to improved officer safety.