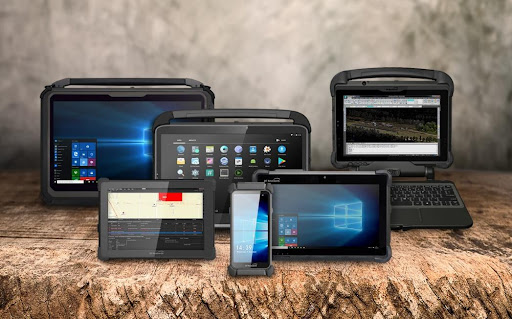 Businesses are finding that as customer demand rises and modern businesses' needs evolve, their employees require more solutions to do tasks effectively and efficiently because employees are moving around more than ever. Although front-line workers have long relied on handheld mobile computing devices, many businesses now need to bring the benefits of a desktop computer into the field to boost productivity and enable better worker communications among employees who require a larger screen, more computing power, or "handwritten" data input capabilities—hence the rugged tablets.
Many businesses need quick and reliable data access. So, it's not surprising that rugged tablets are rapidly growing in popularity. Companies are all too aware of the necessity for mobile workers to have instant access to real-time data just like their coworkers who are based in offices. This approach enables smooth departmental collaboration, which leads to quicker product and service delivery.
Given that rugged tablet are frequently customized for certain users and niches, the value of robust enterprise-grade tablets will undoubtedly vary from company to company. However, there is a common value that all users share:
Rugged Reliability
The durability of a rugged tablet is maybe its most evident advantage. Rugged computers are the ideal option for the majority of industrial workplaces since they have the best characteristics that enable firms to continue operating even in demanding situations.
Businesses will benefit from utilizing rugged tablets and laptops, particularly if their equipment is frequently exposed to water, severe temperatures, or elevated areas (where there is a chance of breaking due to dropping). The DT Research line of tough computing has an IP65 designation, which implies they are dust and water-resistant.
In addition to durable hardware, rugged tablets are also made with an adaptive and tough internal system. This means businesses can benefit from computer longevity as rugged tablets continue to perform effectively even past their standard lifespan.
Customized to Business Needs
There's a tablet for every kind of business. Rugged tablets can be customized depending on a business needs. Public safety and healthcare workers may require 2-in-1 functionality with a detachable keyboard or access to more secure data and information systems to perform background checks or retrieve patient records, whereas front-line utility workers may need to prioritize drop-proof, high-visibility screens and GIS access. Businesses might seek out solutions with easy-to-use user interfaces, ergonomic portability, and point-of-sale payment processing capabilities. Additionally, merchandisers might need a mechanism to obtain customer approval for deliveries or installations, the ability to examine intricate planograms in varying lighting conditions, and more. Employees that have the appropriate hardware can use many native programs to satisfy their specific operational needs.
Higher Return on Investment
Making decisions that are cost-effective is essential to every organization. In general, rugged tablets cost more than standard off-the-shelf consumer technology. Rugged tablets, on the other hand, can help businesses save money over time because of their distinctive characteristics and capabilities. Using rugged computers can help businesses cut expenses in the following areas:
Support and Repair Expenses – Because rugged tech is less likely to sustain damage, break, or experience other problems, repair costs are reduced and remote management reduces support costs.
Recurring expenses – Because tough computers have a longer use life, money is saved with more time between replacements.
Using rugged tablets can help employees in a variety of industries. It is essential for public services to be able to depend on responsive technology in outdoor settings. Extreme heat, cold, dust, vibration, and dampness have little to no effect on rugged tablets' ability to function.
Rugged tablets and laptops have advantages for manufacturing businesses as well. Utilizing robust computing enables firms to keep performing diagnostics, maintaining inventory, and reporting in factories or plants where temperatures can be hot or cold and there is a high chance of dust and drops.
Similar to this, businesses in the hospitality and leisure sector may make sure that access to data is always available, no matter the environment—whether it's outdoors in the rain, at risk of being dropped from great heights, or in constant sunlight.