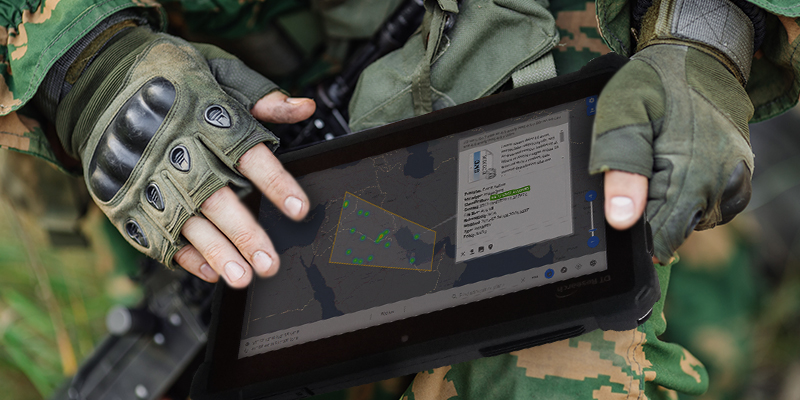 The HINTE Expo & Conference INTERGEO 2019 is scheduled to take place September 17-19 in Messe Stuttgart. Celebrating 25 years of evolutionary success, the event features over 680 exhibitors from around the world showing their innovations. DT Researchs innovative GNSS rugged tablets provide the perfect solution for members of the military looking for more accurate mapping and measurement capabilities as well as greater control of logistics concerning fleet and supply management.

DT301X-TR Rugged Tablet Features
To better understand the benefits of such technology, its important to know what features are offered with a rugged tablet. For example, what makes it a key tool for the military? The DT301X-TR Rugged Tablet answers the call for a solution that is lightweight, precise, durable, easy to read and use, and mobile.
This type of criteria expected by the military ensures widespread use in a variety of settings including indoors and outdoors, in a building or in the field, and during the day or late into the night. It offers levels of security as well as integration with existing applications to increase the accuracy of positioning, the capture of data, and the transmission of data.

GNSS supports GPS, GLONASS, BeiDou, Galileo, and QZSS. It is used to determine the precise measurements for survey missions, airfield construction, and other field surveys. An optional antenna can be used with the RTK GNSS positioning or with an external antenna for a more precise total station.

Changing the Way the Military Approaches Logistics
The INTERGEO Show provides the perfect platform for DT Research to demonstrate the capabilities of its rugged tablets in terms of logistics. Managing a fleet, keeping tabs on inventory, and tracking down supplies becomes increasingly easier with the right military-grade tablet. Built-to-last and streamline the tasks required of the military members that use it regularly, it also has built-in safety features that prevent unauthorized people from accessing the information. The tablet can be remotely wiped should one be compromised.

Benefits of Switching Over to High Accuracy Rugged Tablets
One of the most notable benefits of the rugged tablets is the fact that military personnel can be tracked throughout their mission with or without Wi-Fi, ensuring the safety of soldiers in the field. All information that is transferred between soldiers in the field and base commanders is done in real-time with the most accurate and up-to-date information. This improves decision making by being able to transfer data and new information quickly to all team members who have access to the network.
The demand for accurate, safe, and portable technologies worldwide is ever increasing. As the military seeks better solutions to meet its logistics and mapping needs, the value of rugged tablets becomes well-documented. The proof is in the application of the DT301X-TR Rugged Tablet indoors and outdoors with its GNSS capabilities.