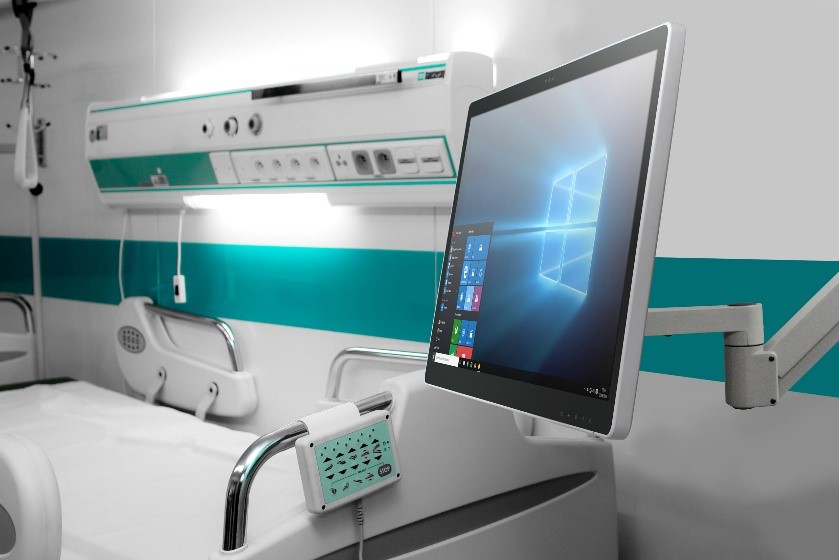 Smartphones are a breeding ground for bacteria and yet they are a crucial device for hospitals globally. The current debate is whether medical professionals should be able to use their personal mobile devices for work in hospitals or should they only be given the opportunity to use devices provided by the hospital or medical facility. On one hand, it is a discussion of convenience, on another, it is a discussion of privacy and work-life balance; the even bigger concern is the safety and health of the patients.
98% of touchscreen phones have 25,000 germs per square inch. Pathogens such as Streptococcus, E-Coli, C-Diff, and MRSA have all been found on smartphones brought by staff into clinical areas. While the surface of phones can be disinfected with soap and water or disinfectant wipes, research suggests that many either do not remember to disinfect their phones or choose not to for fear of screen damage.
A study by Heyba, et al. in 2015 found that out of 213 mobile phones being used by clinicians in intensive care units (ICUs), pediatric intensive care units (PICUs), and neonatal care units (NCUs) 157 (73.7 percent) were colonized, with MRSA and Gram-negative bacteria identified in 1.4 percent and 7 percent of the mobile phones, respectively. Many medical facilities lack proper protocols for disinfecting personal devices that are brought to work and used while on shifts at the facility.
The answer then seems to be in the investment of lightweight, mobile devices that are specifically designed to use during shifts such as a medical cart computer or medical tablet. The need for medical-grade computing equipment exists, yet some facilities are not ready to make the investment into new equipment, however, investing in portable technology that is used solely for work purposes would both reduce the exposure to bacteria on smartphones as well as aid the work/life balance issue of medical workers taking their work home with them.
Medical cart computers and medical tablets are designed to be anti-microbial and have UL60601-1 certification, thus being the best solution for infection control issues with computing performed by healthcare workers. Medical cart computers are cordless, lightweight computer systems that operate continuously with batteries that can be dynamically changed in the middle of a shift. Thus, making them the ideal solution for healthcare professionals to manage patient information while also eliminating the need to purchase costly medical cart batteries. Patient data is easily accessible and staff workflow is optimized, minimizing the total cost of ownership and improving efficiency.
Medical tablets are designed and built in an antimicrobial enclosure, with an optional camera, a barcode scanner for increased patient security, and a 4K touchscreen. Tablets are portable and lightweight for easy carry between rooms to ensure patients receive the most accurate and efficient care.
Infection control is one of the most discussed topics given the current landscape of our healthcare situation, portable mobile tablets designed specifically for the healthcare market could be the answer to reducing infections that are transmitted through the screens of personal devices.