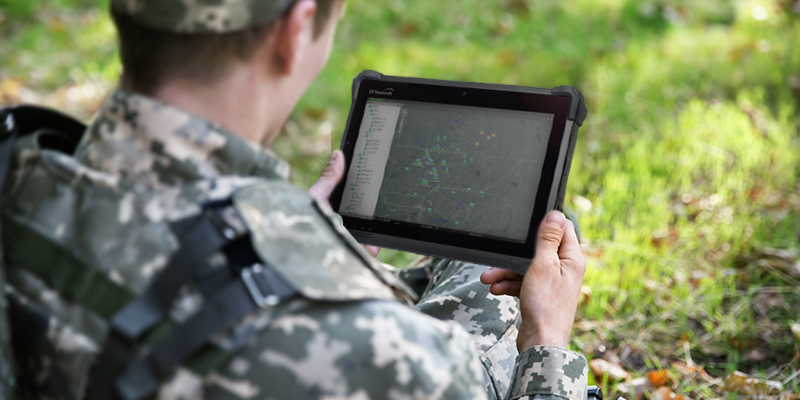 National Guard soldiers serve both community and country. Their versatility enables them to respond to domestic emergencies, overseas missions, counterdrug efforts, reconstruction missions, and more. Their great responsibility comes in a time of need for the constituents of their country, being deployed during emergency or crisis situations to help distribute supplies or assist with rescue missions during a natural disaster. Rugged tablets have been a significant and valuable part of the militarys strategies for quite some time now.
The durability of rugged tablets helps the national guard do their job more effectively allowing them to be mobile no matter the situation. Rugged tablets are lightweight, portable devices that can withstand falls of several feet, water exposure, and extreme temperatures or dusty climates. The backlit screens are capable of being seen even in glaring sunlight or in the dark of the night, while still conveying computing consistency in harsh settings. However, the most prominent value of these handheld tablets are their impact on the militarys realizations of organizational objectives at the tactical, strategic, and operational levels.
Five Reasons Handheld Rugged Tablets are the National Guards Top Tactical Device:
Track Supplies Distribution
In most military settings, operational requirements relate to the best possible deployment of resources and supplies distribution for fulfilling tasks and missions. Rugged tablets play a key role in daily operations for moving and tracking materials, supplies, and machines in use. DT Researchs military-standard tablets are designed to provide groundbreaking management and for supply chains and deliveries. When supplies need to be shipped, tracked, and distributed someone is responsible for ensuring this is done accurately and quickly. With the integration of rugged tablets for this operational process, the roles and responsibilities of this person are eased with a rugged tablet equipped with robust applications to manage, track, and predict necessary supplies and shipments. Team members with network access can retrieve this information in real-time.
Inventory Management
Inventory management for national guard missions can include food, mission-critical supplies, medical supplies, equipment, and more. Inventory management requires logging all materials that are available for the mission, re-ordering parts/supplies when they are running low, tracking shipments, and guaranteeing all parts are where they need to be when they need to be there. There are a lot of moving parts on a mission and a variety of items to monitor and track, DT Research rugged tablets provide the innovation needed to manage the process ensuring inventory management is quick, efficient and reliable.
Deployment
The utilization of purpose-built tablets for military operations by means of a secure and closed network limits the risks of security breaches. This guarantees that the data on the tablet is well protected regardless of whether the unit is on a base, in transit, or in the field. Rugged tablets for the military can consistently transmit data from the field to centralized locations, then back again to individual operational units as needed, thus making rugged tablets an invaluable decision-making tool for deployment.
No Downtime and Full Connectivity
Rugged tablets contain multiple features that make them ideal for the precise directives and situational awareness needed in the field. Native Wi-Fi capabilities enable users to boost 4G and 5G communication built directly into the tablet. The rugged tablets high capacity hot-swappable battery pack delivers 60 or 90 watts for up to 15 hours of continuous mobile communications providing long battery life that lasts a full shift in the field. DT Researchs rugged tablets hot-swappable battery and accessory options means that there is no downtime when switching out a drained battery for a fully charged one.
CAC reader
CAC (common access card) readers are given as standard identification for active-duty military personnel, reserve personnel, civilian employees, non-DoD government employees, members of the National Guard, and eligible contractor personnel. A rugged tablet with an integrated CAC reader can be passed back and forth between various levels of personnel so they can access the information they need to do their job. Our military-grade tablets are equipped with a built-in CAC reader which enhances the safety of the data on the network, while also ensuring members of the squad with appropriate access can log in and gain the information they need in real-time.
When the national guard is deployed on missions that require them to help the population during a crisis, they need equipment that is designed to increase the efficiency of the job. DT Researchs rugged tablets answer that need, enabling them to do their job faster and with better accuracy.