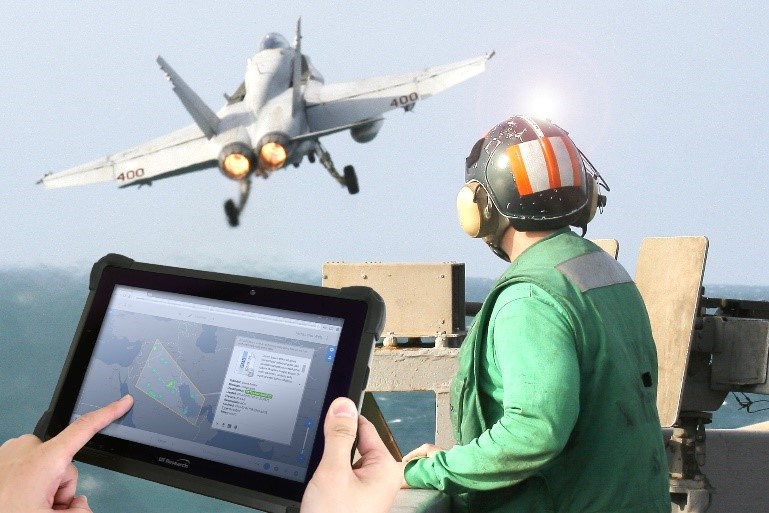 Military Vehicles need maintenance often to ensure they run effectively and efficiently when needed. Preventive maintenance as well as diagnostic repairs management for all vehicles in the fleet need to be tracked for the downtime of the vehicle, repair updates, and replacement parts. Technology allows personnel who are responsible for tracking fleet maintenance and repairs easier connection and better efficiency of service tracking.
Rugged tablets integrate with data capture enabling service and maintenance repairs to be updated in real-time. Military-grade tablets are built to improve operational efficiency and allow all teams more effective communication so there is little to no lag time during the repairs. Thus allowing better tracking of scheduled maintenance and service repairs.
Camera for Vehicle Repairs
With the use of rugged tablets integrated with the camera, troubleshooting of repair issues and initial checkups can be done quickly and capture an image of the damage. As the initial diagnostic services and repairs are being done each step is recorded to document the process and updates to the vehicle. The recorded data can help move the service repairs along faster, help diagnose larger issues, and document the repairs in real-time so all teams are up-to-date on how long the vehicle may be out of service while also preventing larger issues from arising by being able to identify them earlier.
Preventive Maintenance Management
Scheduling, tracking, and documenting preventative maintenance becomes easier with the use of rugged tablets. Rugged tablets streamline processes while tracking which vehicles have been updated, the date and time they were updated, and what repairs were done. Rugged tablets track when preventative maintenance has been done and needs to be done so downtime of that vehicle can be planned for ahead of time. Planning for scheduled maintenance helps military personnel spread out maintenance needs and document the number of vehicles they have in operation at any given time. Real-time reporting can be done to update all personnel who may need to know when the vehicle will be back in use.
Documentation and Reporting
Military-grade tablets keep all recorded documents of fleet repairs and maintenance records, providing real-time reporting to anyone with access to the network. Knowing which parts have been replaced and which parts may need to be replaced in the near future, aids future planning for operations. These reports can be easily retrieved at any time to predict when vehicles in the fleet will need maintenance or if they have recently received maintenance so they can be sent into the field. DT Researchs rugged tablets are designed to help the military improve its capabilities of maintaining its fleet. Rugged tablets for fleet management allows all personnel to be informed and consistently updated, improving the process flow of scheduled maintenance and vehicle repairs. Also improving the efficiency of dispatching appropriate vehicles on long-term or short-term missions