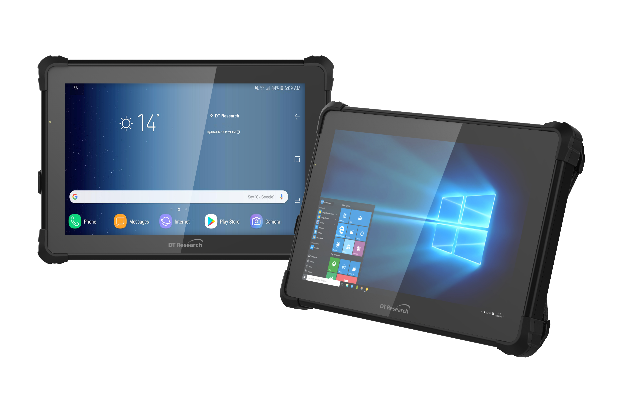 Everything we do here at DT Research is with our customers in mind. We design, build, and manufacture purpose-built computers and accessories that go beyond expectations to fill a need in the marketplace. When we hear of a specific need or challenge that a customer or industry is facing, our team begins working on a solution. Often a company in the purpose-built devices space will build the product and then try to fit it into the industry, but we truly believe in building the product specific to the needs of our customers.
This is one of the many reasons our customers choose DT Research for their rugged technology needs. We strive to provide solutions that simplify processes and improve the efficiency of daily tasks, thus increasing the return on investment by enhancing internal efficiencies and reducing the risk of human error.
Our products include rugged tablets, medical cart computers, medical tablets, and military-grade tablets as well as handheld ultra-portable tablets perfect for warehouse and manufacturing floors.
Three Reasons Our Customers Choose DT Research
1. Fully Integrated Options
Our purpose-built computers have fully integrated options such as built-in Wi-Fi, Bluetooth, integrated data capture options, high accuracy GNSS, camera and 3G options, CAC reader, and much more. Each option is built into the tablet to reduce external parts being broken or lost in harsh environments. This increases the durability of the tablet so that it can withstand extreme environments where other tablets are not suitable.
2. Ability to Customize
If something is not built into the tablet already, our customers have the ability to customize the tablet before it ships, this includes loading an operating software or specific application into the computer prior to the end-user receiving it. We listen to the feedback of our customers and continuously develop new designs and upgrades to our products based on their feedback. Our engineers continually improve upon the original design to ensure our product stays competitive and meets the needs of our customers.
3. Technology Combined with Competitive Pricing
We strive to offer the best technology in the market priced competitively so that the investment our clients make into upgrading their systems is built to last. We combine a Windows or Android operating system with the latest Intel processors to ensure speed for ultimate functionality, and a solid-state system for operational longevity. When a company decides to invest in rugged technology they will save money on repairs, maintenance, and productivity.
Purpose-built computing systems by DT Research provide customers with rapid time-to-market solutions. The DT Research family of products are based on embedded computing that power secure, reliable, and cost-effective computing.