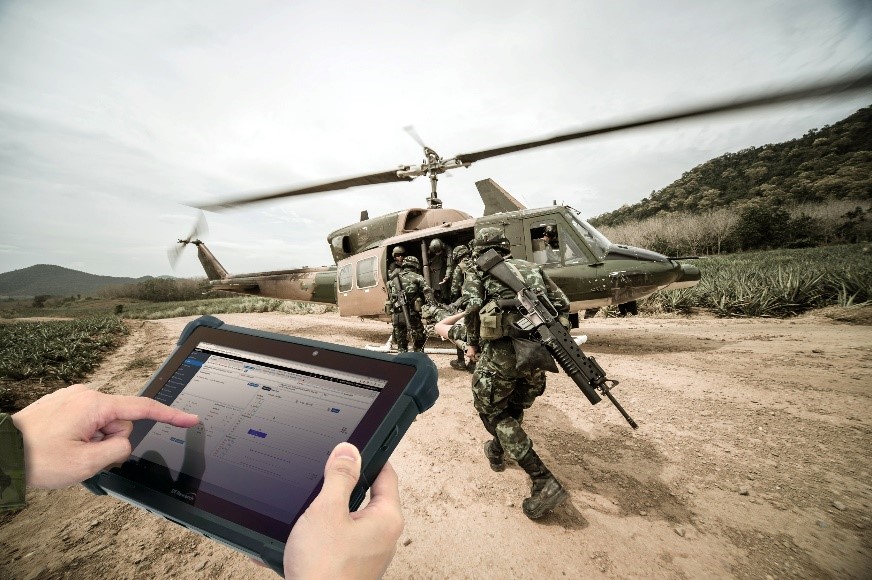 The Air Force performs aerial support with a general mission to protect and defend in the aerial space. Their missions require them to monitor and manage a variety of supplies across multiple channels to ensure members on the base and members in the field are well supplied. Fleet management is also an important necessity for the Air Force to ensure operations can move forward without delay.
The Air Force requires careful handling, storing, and managing of supplies going to and from bases globally. Numerous products, fleet parts, and supplies must be shipped and tracked to ensure operations run smoothly. Maintenance schedules have the need to be easily accessed by team members in multiple departments, so there arent scheduling mishaps and delays if a vehicle is not ready in time for field operation. Furthermore, military-grade rugged tablets ensure rugged reliability to personnel and technicians on the flight line or during critical missions while efficiently managing maintenance schedules, supplies, and inventory both on and off the base.
Military-grade tablets are equipped with additional security features and CAC readers that allow only authorized personnel to access the information that they have security clearance to access.
3 Ways Rugged Tablets with CAC Readers Improve Air Force Operations
Supply Management
A rugged tablet with a CAC reader helps Air Force management teams report on the supplies they have and supplies they are in need of on a daily basis. Rugged tablets log information efficiently and allow access to team members in real-time. Rugged tablets are also able to provide forecasts to help team members know when supplies need to be ordered, prior to running out. Notifications are sent to logistics team members on the inventory levels of the supplies, so orders can be placed on which supplies they need. Information can be accessed in real-time on the tablet by anyone with the security clearance to access the supplies inventory through a built-in CAC reader on the tablet.
Inventory Control
Centralized data from rugged tablets help the Air Force know information about fleet inventory, supply inventory, and other military-grade inventory on the base. Its important to know when inventory is stocked or when it is running low, with the integration of rugged tablets proper forecasting can be done to ensure inventory is managed appropriately. Accurate records are kept regarding when air crafts are being maintenanced or serviced when inventory is expected to run low and when aircraft or artillery is completely out.
With the use of CAC readers, personnel are able to keep accurate records, communicate in real-time, and make better decisions based on forecasting through the integrated software on the tablet.

Additional Base Security
Rugged tablets are manufactured with a built-in CAC reader, a technology that aids base security by giving access to records or places within the base based on their credentials, only allowing team members who have access to a specific location on the base or information on the network. CAC readers provide a higher security level for the base and the personnel located on the base. Military-grade tablets require user authentication through the CAC reader providing both peace of mind and additional security to important data, networks, and information on the base.