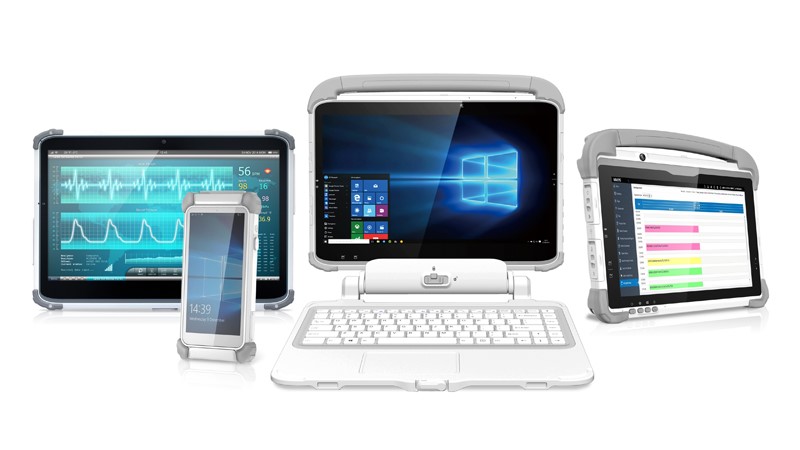 Weve reached 2021, and while many aspects of daily life have slowed, technology needs are still increasing. With employers and staff shifting gears in work environments, connections need to be stronger than ever. From durable medical tablets to rugged technology for the military, theres seemingly no limit to what our products at DT Research can do. Here are just a few ways to utilize your own rugged tablet in the new year!
Medical Staff Needs
Our high-tech medical tablets are rugged, fast, and lightweight. Not to mention, we have plenty of sizes to meet the unique needs of medical staff in various industries and job roles. The 362MD Medical Tablet features a 6 capacitive touch screen and energy-efficient Intel quad-core processor, while the 301MD 2-in-1 offers a slightly larger 10.1 screen. We also offer the 313MD Rugged 2-in-1 Medical Tablet for a wider work area thats closer to a full-scale workstation! With satellite connection technology, these tablets will be useful for faster information transfer for both patient and billing needs. Medical tablets are currently aiding staff with telemedicine visits, at mobile testing sites, and for vaccine distribution.
Accident Investigation
Rugged tablets have been changing the game in accident investigation training as well as real disasters. Drones and rendering with rugged tablets allow first responders to safely collect in-depth images at a distance. Tablets like the DT301X-TR Rugged Tablet provide accuracy and integrity through the use of GNSS or Global Navigation Satellite Systems. Keep your crew safe with the latest technology that could change the outcome of certain incidents, while processing the scene faster and with more accuracy than manually entering information.
Farming
Investing in rugged tablets for the purpose of monitoring crops is a move many farmers will likely be making in 2021. Tablets can help one to seek out a problem in their crop before its too late. Farmers will have better accuracy in monitoring weed control, gauging pesticide usage, and tracking plant growth progress. This is a faster, safer, more efficient way to farm. Technology improvements have been making a world of difference in the agriculture industry. Dont be left behind!
Inventory Tracking
Tracking inventory can be a time-consuming process, but our rugged tablets efficiently speed up the process. Theres seemingly no limit to the versatility of rugged tablets, as they can be integrated with software managing systems. Take advantage of the security and safety guards that are included. Make your inventory process easier by incorporating a rugged tablet to do the heavy lifting for you.
One of our new years goals is to introduce you to the latest technology to help make work-life simpler and more efficient. Youve worked hard throughout 2020, so why not look into a tablet that will work just as hard while streamlining the process? Get the most out of your technology and improve workflow by investing in a suitable rugged tablet to fit your industry and companys unique needs.