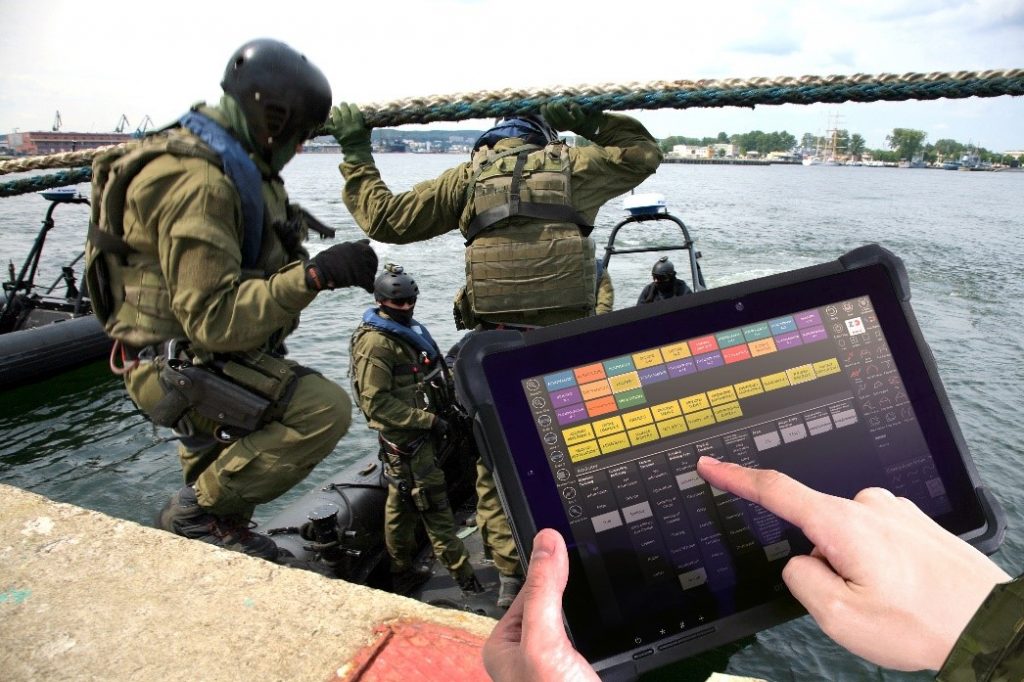 Special forces teams require a unified approach to collecting data, communicating in the field and on the base, while being informed with the most up-to-date information available to drive data-informed decision making while deployed or preparing for deployment. 
With the use of rugged tablets, special forces can disseminate information to people across the network in a secure, reliable manner with information controlled by senior leaders. Each rugged tablet has an integrated CAC reader, that requires personnel to scan into the network with a RFID chip in order to access information on the network; this additional security ensures only personnel with the appropriate credentials can access intel and information when logged on the network.
Rugged tablets collect data and information from a number of sources and consolidate it into one system where information can be accessed in a secure method. Information can be collected from personnel in the field, drones that feed information into the system, consolidation of databases, other tablets being operated by different teams and other reliable sources. This information is stored, logged and analyzed by the system accessible in real-time by anyone with the right access to the information on the secure network. 
Data-driven, real-time decision-making is enabled so senior officials can make the best choices given the data and information collected in real-time. In the past decisions have had to be made with scattered information that could have been collected hours or even days before. With the use of rugged tablets, now decisions can be made given the information instantly collected in the field rather than stagnant or old information. 
Information collected from different divisions such as the Air Force, Navy or Marines can also be gathered, analyzed, and used in real-time across the network so that uninformed decisions are being made across multiple missions. 
Benefits of Rugged Tablets for Special Forces Include
Secure Transmission of Messages and Data
Real-Time Communication between Divisions and Teams
CAC Reader for Additional Data Security
Durability for many Environments and Weather Conditions
Rated IP65, MIL-STD-810G and MIL-46IF
Military branches are choosing the DT Research rugged tablets as their go-to tool for inventory and supply management, maintenance and repair tracking for vehicles, and in-field operations offering diverse capabilities for screen display during the day and at night with night vision, reducing the brightness of the screen at night, to dim settings to be used in the sunlight during the day. 
Military-grade tablets are built to withstand harsh external environments and can be easily transported from base to the field and back. They are lightweight enough to be carried, with accessories that can also make them useful in a vehicle, aircraft, or worn on a vest. 
Rugged tablets are the go-to choice for mission-critical technology that is highly dependable and ready for the task at hand.