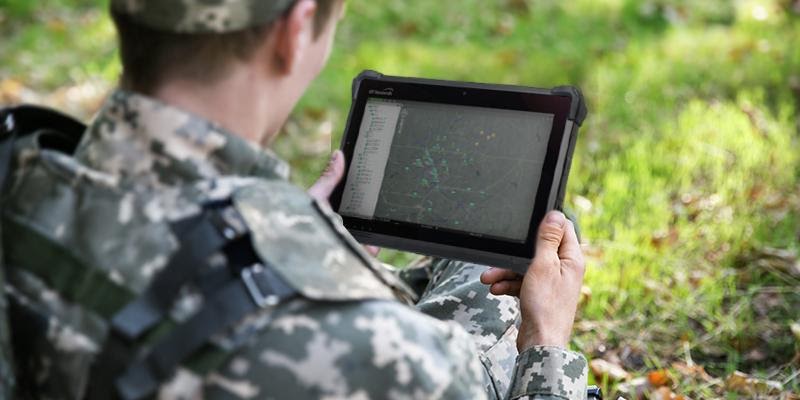 Cybersecurity is of the utmost importance for military operations. Daily, hundreds of thousands of cyber-attack attempts are made on intel acquired by the military from foreign governments and external intelligence agencies. Mission-critical data must be kept secure across all technology that is used to collect data and information, contingency planning, and deployment schedules.
Rugged tablets are one of the many tools the US military chooses to use for mission-critical deployments that offer military-grade security of information. Personnel and senior leaders can rest assured knowing that any information stored within the network on a military-grade tablet will be kept secure while also being accessible by multiple departments and divisions in real-time.
3 Security Benefits of Military-Grade Tablets
CAC Readers
Built-in CAC readers come equipped on each military-grade tablet, enabling additional security of information stored on the network. CAC readers only allow personnel who meet specific login credentials to view information that fits their credentialed level when accessing the information on the network. This ensures an extra layer of security with who is given access to data that is needed for making decisions on critical missions in the field or supplies on the base. 
Screen Dimming Options
Rugged tablets are built with options for screen brightness, dimming options, and even night vision. For missions where the tablet is being used in direct sunlight, the backscreen of the tablet can be brightened so that the screen can be seen in direct sunlight. For evening operations, the screen can be dimmed to a very dark screen so that it can still be seen, but not seen by others who may be watching for lights in the dark across borders. Even more advanced, our military-grade tablets are built with night vision – where the screen cannot be seen by night-vision goggles in the distance, but can still be read by the team using it in the field. The tablet has an expansive memory that enables software applications and video downloads, even when Wi-Fi is not available.
Lock Down Features
Each tablet is equipped with remote lock-down features that allow the system to be locked from a distance in case of loss or theft while in the field. An auto-disable feature is available in times of emergencies where a tablet may have been recovered by non-authorized personnel or outsiders, allowing military data to be disabled and wiped in real-time so that no information can be recovered by outsiders. An instant media blackout can be activated when sensitive information is being transmitted that could be at risk of being breached.
Military-grade tablets are built with ratings that ensure durability, stamina in the field, and required security features to defend against cyber attacks and theft of pertinent information. Rated IP65, MIL-STD-810G, and MIL-STD 46IF – these ratings stand up to harsh environments, advanced security measures, and extreme weather conditions. 
Built for the mission, rugged tablets answer the call of duty for those who serve.