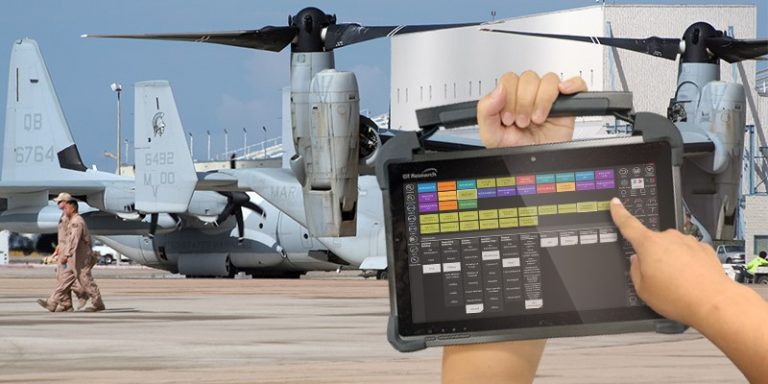 The military has to keep track of a lot of assets. There are big ticket items like planes, vehicles, fleets, firearms, basic IT equipment and computers. However, as equipment becomes more complex with multiple moving parts from base to field back to base, the task of asset management for defense departments gets more complex as well, which brings challenges associated with asset tracking, warehouse management, shipping/receiving and inventory control. Rugged tablets offer a solution that integrates everything into one place for better efficiency and supply control. 
Track and Monitor High-value assets
Military operations are renowned for precision, focus, efficiency and accuracy. However, having to rely on legacy technology and manual processes makes it challenging for the military's asset management team to reflect the same level of excellence. The only way to achieve the precision, efficiency and cost-effectiveness that are critical to the success of military operations is to deploy a highly automated, real-time military asset management, tracking and maintenance solution that provides total visibility and control.
Rugged tablets enable the military to save time and money and to take full control and accountability for all their military vehicles, equipment, key personnel, technology, vessels, and medical supplies. Rugged tablets combine the power of the Internet of Things (IoT), RFID, and GPS technology to support the military in covertly and overtly tracking, monitoring, and recovering military assets from supply chain to field deployment.
Keep Assets Safe and Locked
Today, military information infrastructures include secure wireless and cellular broadband networks that break down traditional boundaries between indoor and outdoor tasks. By using mobile rugged tablets within a secure network, military personnel can effectively relay information and minimize manual data dissemination from administration offices to and from deployed field commanders and staff.
Rugged tablets are IoT-enabled devices that track, monitor and recover assets in real-time without the need for GSM networks. These mobile computers have built-in wireless and sim-free solutions to protect and monitor armories, track individuals in the field in real-time and provide security applications for security-critical sites. These rugged tablets integrated with the military's application can be used to tag supplies, monitor on-site assets, and streamline supply chain movements effectively and efficiently with a dedicated and secure platform.
DT Research military-grade tablets are IP65 and MIL-STD-810G for durability and security. With advanced security measures such as CAC readers and dedicated network access.
From the base to the field, it is critically important for the military to be able to accurately locate, count and track their assets. DT Research rugged tablets have been developed and integrated with the most versatile and reliable asset management solutions for tracking assets and providing global visibility for mobile assets, computing systems, fleet vehicles, rolling stock and other high value assets of the military.