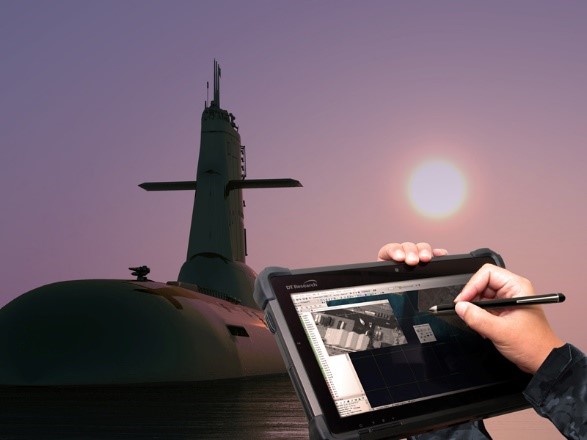 Situational awareness is absolutely critical, especially to navigators. You need to be aware of your environment at all times, understand it and then act accordingly. Maintaining good situational awareness can be challenging and there are many things that can cause distraction or overload. Time and awareness are of the essence when you are on duty, especially at sea.
Rugged tablets have been used by the military in critical situations to access and receive information that helps to improve personnel safety at sea and to increase situational awareness. These handheld devices help capture a wealth of information about the surrounding environment and identify potential threats, such as colliding or coming into close quarters with other boats.
Situational Awareness
Rugged tablets help provide situational data in the most challenging and dangerous operational environments. Notwithstanding the rigors of military operations, this handheld device is specifically engineered to continue to perform in harsh outdoor environments that include water, dust, grime, vibrations, high altitudes, extreme temperatures, and accidental drops.
In navigational situations, rugged tablets facilitate an uninterrupted activity that is vital for relaying surveillance, checking the surroundings, especially other boats in the area, and checking your boat's configuration, equipment, and systems. Rugged tablets provide the military with the ability to assess situations, take and send photos, display maps, use GPS for geofencing, and to access and share data.
Communications
Communication devices that cannot stand the rigors of the battlefield put soldiers at risk. Military personnel needs tools and equipment to keep them connected and in control. Rugged tablets are the mobile device connectivity technology that the military needs. DT Research's DT301X-TR offers real-time mapping and positioning courtesy of its GNSS module. Offering support to GPS, QZSS, GLONASS, Galileo, and BeiDou, featuring real-time kinematic (RTK) satellite navigation to enhance the precision of GNSS position data. It makes mapping locations easier, sharing real-time data at record speed is a possibility no matter the location which enhances the safety of those on duty at sea. Teams can communicate in real-time with information that is stored on the network.
Protect mission data from security threats
DT Research rugged tablets are designed with hardware-level security and encryption. They are compliant to protect against unauthorized access and armed with accessories such as fingerprint and smart-card readers to authenticate user access. Integrated CAC readers add an additional layer of security, only allowing those with security access to log into the network through their credentials that are only given access to pertinent information based on their security clearance.
Mobile military-grade rugged tablets can access, assess, and receive information, bringing it all together directly into the hands of personnel, helping to increase situational awareness and to improve safety.