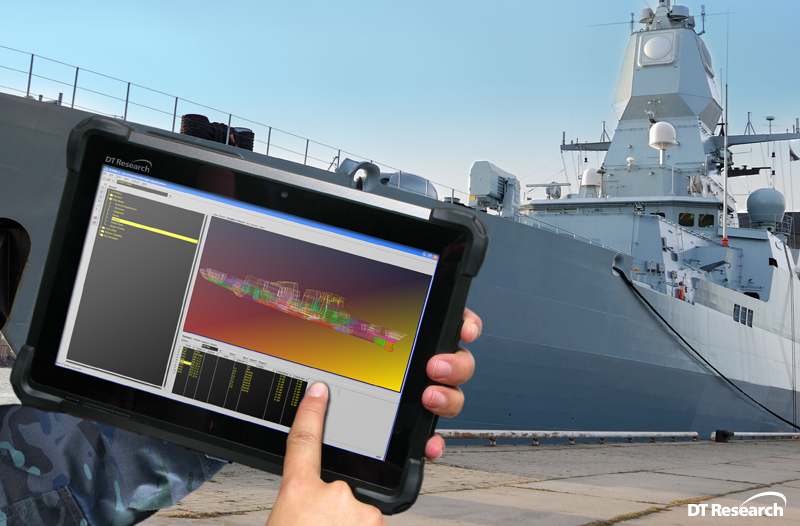 Rugged technology is built to meet the needs of the military for both on-base logistics as well as deployments. The US Navy depends on rugged technology for added security on their networks, real-time communication among their teams, and advanced location features that stand above other types of technology.
RTK positioning is an advanced location feature that is heavily relied upon as a built-in feature of rugged tablets from DT Research. Real-time GPS receivers feed intel into the rugged device from a live location, the rugged device then stores this information in real-time on the network. Drawings, land surveys, coordinates, plans, blueprints, etc. can be accessed from anyone at any time, as long as they have access to the secured network.
RTK is short for real-time kinematics. A GPS receiver capable of RTK takes in the normal signals from the Global Navigation Satellite Systems along with a correction stream to achieve 1cm positional accuracy. GNSS includes satellites from GPS (USA), GLONASS (Russia), Beidou (China), and Galileo (Europe)
The information provided by RTK positioning dramatically improves accuracy of measurements in mapping and surveying land. RTK positioning aids the navy to reduce timing errors, and improve range accuracy when on missions or locating various geographical coordinates at sea.
Precision positioning of ships, out-to-sea bases, and supply coordinates are crucial for military missions. Rugged tablets with RTK positioning make it possible for vessels and assets to be located at any time, even if there is no WiFi, as military-grade tablets come equipped with built-in WiFi and long-range Bluetooth for wireless computing.
RTK positioning also reduces orbital and atmospheric errors, while improving the function between GPS receivers. Real-time kinematics are crucial for military missions, delays could cost a mission time and resources that greatly affect the outcome of the mission.
Rugged Tablets offer many other important benefits to military missions such as:
Intel RealSense Depth Camera – this camera can be used to scout hard-to-reach locations and feed data back to the team.
RFID /UHF RFID reader – allowing many tags to be read by one reader at a time at a very high speed and at long distances.
Integrated CAC reader – for multi-factor authentication to provide advanced security measures for people accessing the information on the network or physically on the base.
Full-HD capacitive touch screen – easy to use screen for data input, easily integrates with a digital pen for writing capture and is fully operational with dimming switches to dim the screen at night or brighten the screen during the day. Night vision features are available for additional security measures in the field.
Certified and highly rated – military-grade tablets are IP65 rated, MIL-STD-810G/H and MIL-STD-461F certified as well as HERO (Hazard of Electromagnetic Radiation to Ordnance) certified.
Durability tested – from drops to spills to vibration and shock resistance, rugged tablets have been proven to be durable in extreme conditions so the mission moves forward, no matter what.
When the going gets tough, the tough needs rugged. Ruggedized military-grade tablets are built to withstand extreme conditions while providing the aid military missions need at sea. Military-grade tablets are tested and put under extreme pressure to perform to ensure they are reliable and accurate when they are needed the most.
DT Research stands out from other tablet brands for impeccable customer service and taking in the feedback from customers to produce next-generation devices that answer our customer's needs.