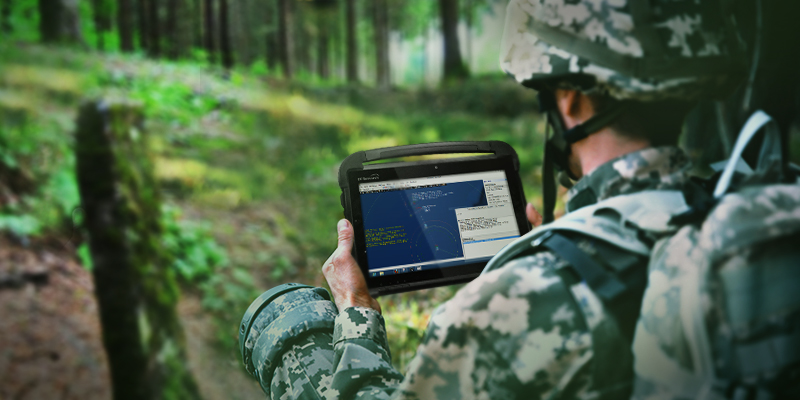 The modern marine needs computing capabilities that can scale and adapt to their various duties. Each mission may have its own set of criteria as well as ruggedization requirements. As a result, rugged technology designers are creating systems that are adaptable enough to suit the Marines' diverse mission and human factor needs.
A fully functioning computer on the field takes the right blend of miniaturization and ruggedization, along with a vision for functionality and usability.
The following are examples of rugged handheld tablet applications in modern military programs:
Data-Driven Decision Making
Military operational success is usually determined by sound and effective decisions based on trustworthy data. This avalanche of digitized data provides military leaders with countless data mining opportunities to uncover hidden patterns in a wide range of situations; as a result, military-grade rugged tablets have become the military's go-to tool for data identification, collection, and organization, as well as the most effective analysis of operational and tactical decisions.
Secure Communication Networks
Military administration and field units may communicate securely and in real-time, which improves efficiency and safety. Status changes and updates can be communicated immediately among vehicles and across distances for better mission planning workflows and on-the-go strategizing. Rugged handhelds have responsive capabilities to store messages for clear, concise, and easily referenced communication, eliminating the need for physical regrouping and meetings.
Communication can also include video conferencing, shared photos and visuals, and field-captured data. Connectivity anywhere with anyone is possible with mobile computers operating on a range of networks, from secure cellular and LAN to edge networks to encrypted WiFi, keeping all classified information completely confidential.
Faster and Improved Data Accuracy
Military operations encounter a variety of threats, many of which have different agendas, reactive capabilities, and adaptive competencies. Furthermore, because operational plans are fraught with uncertainty, military leaders must make quick and effective judgments based on available data. The military discovers, knows, anticipates, and collaborates their data into political, military, economic, social, information, infrastructure, physical environment, and time operational factors using machine-assisted decision-making tools such as military-grade tablets.
Real-Time Situational Awareness
In military terms, tactics are the specific means of achieving a particular objective for on-location deployments. Rugged tablets have a number of capabilities that make them suitable for delivering accurate instructions and maintaining situational awareness in the field. Users can take advantage of native Wi-Fi features to maximize 4G and 5G communication wherever there is an internet connection. Other technologies, such as radio frequency identification and long-range Bluetooth, are now available to help consumers get the information they need quickly.
The military is rapidly importing digital technology into its ground forces. The possibilities and applications for ruggedized tablet computers for the military continually grow in a number of areas. DT Research's long experience in developing highly-ruggedized laptop and tablet solutions for the military is proof that we have developed products that can not only withstand the extreme environments that militaries face but are also highly optimized for use within the new and modernized military systems.