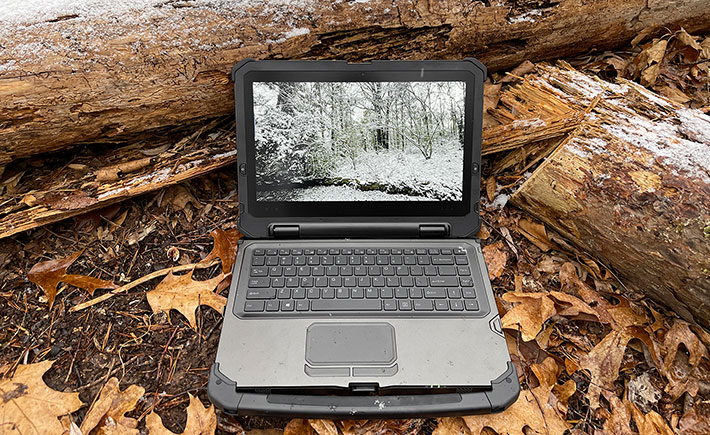 Air Force personnel found a need for rugged technology that could go where others could not. When they brought this need to our attention, our team of engineers designed a solution for "tight spaces" and hard-to-reach places. When other tablets and laptops weren't "getting the job done", they sought a new, unique approach that would enable them to complete tasks even in spaces where there is barely enough room for a person, let alone tools and technology that are needed to troubleshoot the issue and make the repair.
We accepted the challenge and went to work to find a solution that met all of their needs and more. This innovative design, unique solution produced a one-of-a-kind convertible laptop that was built for the mission.
Aircraft Maintenance and Repairs
Moving between aircraft spaces when undergoing maintenance can be a tight squeeze for members who are responsible for executing aircraft repairs or routine maintenance needs. They may need to troubleshoot an issue, read a manual, take images of an area that is hard to access or look at an example of how to put something back on.
Most laptops cannot be taken into these tight-fitting spaces and used while an aircraft is being repaired because they are too large and bulky to fit in the space with a person. This is how we came up with the innovative design of a convertible rugged laptop that easily converts into a tablet from a laptop with 360-degree rotation, making it easy to work on an aircraft even in a tight space.
Not only can maintenance and repair crews view what they need on the tablet, they can also update the system as the repairs are completed, so other crew members know the status of repairs in real-time.
Warehouse Asset Management
We didn't stop there, because we understand that base logistics go much further than aircraft maintenance, we designed a compact, rugged six-inch tablet series for multi-functional use. Easily used in one hand or in a scanner trigger-grip, these flexible, full Windows tablets perform in the warehouse for asset management to track all inventory no matter the location. The DT362 or DT363 has a 6-inch capacitive touch screen that is designed with fully integrated long-range UHF RFID readers which can scan boxes and inventory inside the warehouse even if it is high on a shelf, or outside on the loading dock before it is brought in.
Asset management is crucial for military bases, especially when they are deployed. Personnel needs to know the exact numbers of supplies that are on hand at any given time to ensure inventory levels do not get too low or run out. Supply shortages could cause major issues for critical missions. Rugged tablets document and track all levels of inventory directly in the system, with detailed reports that can be pulled in real-time by anyone with access to the network. Rugged tablets can also be set up to auto-renew when certain items get low, ensuring bases never run out of certain inventory that may be crucial to mission success.
CAC readers and network encryptions provide additional layers of security to ensure all information is kept safe from anyone who does not have access to the data on the network. These multi-functional convertible laptops and handheld rugged tablets offer military-grade durability and strength for the toughest environments.