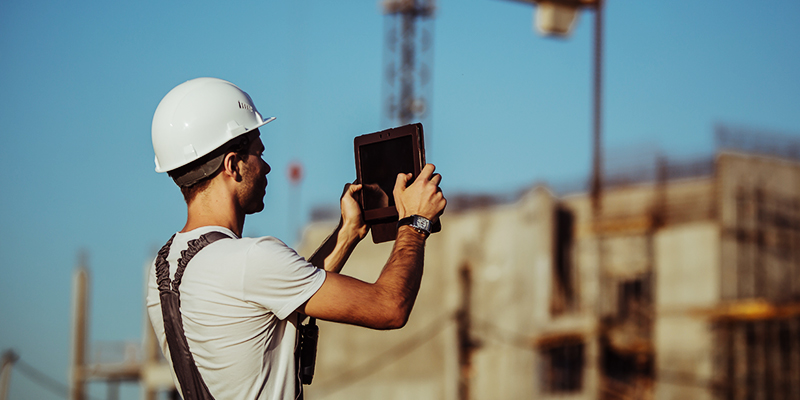 The invention of digital twin technology has expanded the architecture, building, and construction industries, advancing their ability to have replicas and renderings easily accessible throughout the project, with the ability to change or update information in real-time for approvals without affecting the original renderings or project timelines.
Rugged tablets are designed to enable construction teams, architects, and builders the ability to be mobile while working in rough environments where dust, vibration, and the potential for drops is high. Durability and reliability are two features of rugged tablets that make them a "go-to" choice for these industries.
Rugged tablets integrate with digital twin technology, so they can be utilized in the field to make changes while at the job site. Digital twins are being widely adopted in the architect, building, and construction space – where an exact replica or twin of the project blueprint is created digitally. This twin can be used as a backup should the original be lost; it can also be used to manipulate the renderings to see what a projected outcome could look like with changes, without affecting the original plans.
Rugged tablets are designed and manufactured for the job site, they are lightweight enough to be carried by hand throughout the day, while also having the capability to be mounted in a work truck, turning a vehicle into a mobile office.
Real-time Communication
One of the great benefits of rugged tablets for construction and building projects is that as information is updated on the tablet or data is collected from the site, the information or changes are made available to the entire team in real-time. Any team member with access to the network can log in and access the information as it is entered into the system, thus enabling real-time decisions to be made which can speed up the time it takes to complete a project by reducing delays from decisions being held up because information needs to be uploaded later and reviewed by management.
Data Collection and Accurate Measurements
Collecting data from the project is crucial to meeting project timelines. Rugged tablets are fully integrated with options such as the 3D RealSense camera which can be utilized to scope areas of the project or take measurements of a specific area. The data collected is uploaded into the tablet and made available immediately. The 3D RealSense camera collects information with 99.7% accuracy and is a great tool for surveying land, collecting accurate measurements for a specific part of the build, or taking aerial shots of the project.