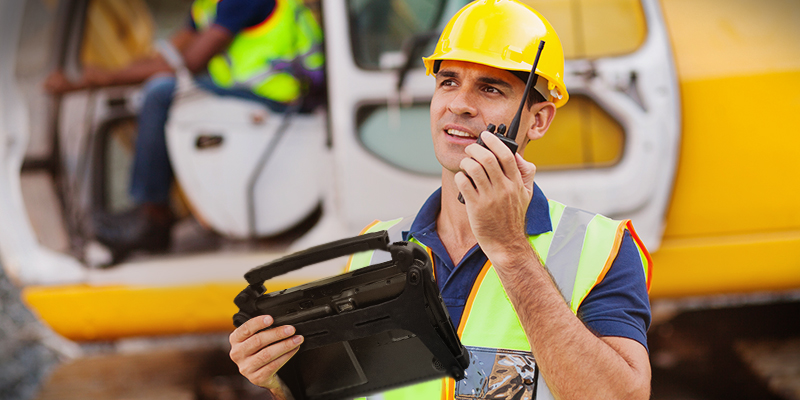 Among a diverse set of industries, companies are seeking to assist their teams with improving productivity and increasing job efficiency, helping their teams work smarter not harder. Technology is playing a large role in simplifying job-related tasks, improving outdated processes, and streamlining projects. As customer demands increase, and the landscape of business operations as we once knew it, changes rapidly given the current state of affairs in the world, teams are in need of supportive tools that improve their working life and remove barriers that reduce productivity.
Rugged Tablets answer the needs of teams to resolve many of the obstacles that get in the way of productivity, effective team communication, and accurate data collection for more informed decision making. Rugged tablets are portable hand-held computers that are lightweight enough to be carried from job site to job site, used in a vehicle as a mobile office, or taken to the office desk. Rugged tablets provide mobility, functionality, and reliability that consumer-grade tablets do not offer.
3 Benefits of Rugged Tablets for Increased Efficiency
Streamline Projects
Information spread out across too many places makes it hard for projects to be completed in a timely manner. When information for a project is scattered, teams are slowed down because they cannot access what is needed to move projects along. Rugged tablets make it possible for projects to be streamlined by making information available on the network in real-time. One team working on one part of the project can access information by a different team in real-time, streamlining all the information into one place to enhance decision-making capabilities and real-time communication between departments. From construction projects to utility maintenance to road repair, information is easily accessible and streamlined into one place, enhancing a team's ability to complete projects in a succinct manner.
Data Capture Options
Rugged tablets are equipped with fully integrated data capture options such as RFID readers, barcode scanners, GNSS, 3D RealSense cameras, CAC readers and smart card readers, Bluetooth, and WiFi. Enabling teams to collect and upload data in a variety of ways reduce the time it takes to use paper and pen to draw renderings or collect measurements and then transfer them to a computer system at a later time. Collecting data directly from the tablet saves time, improves the accuracy of data collected, reduces the risk for human error, and allows each part of the project to keep moving without waiting on information from another team. Data is captured and stored on the network in real-time so decisions about the project can also be made in real-time.
Mobility
Mobility is crucial when it comes to improving efficiency on job sites. Having the ability to scope a project in real-time, upload accurate measurements, create renderings and drawings, go from the office to a work vehicle, into the field and back to an office enables workers to complete tasks while on the road or at a job site, without the need for transferring information at a later time. Work is completed faster, for example, while a team member is sitting at a job site waiting for a contractor or inspection they can be getting work done from the rugged tablet. Rugged tablets are lightweight enough to be carried onto the job site for surveying, updating renderings, or scoping hard-to-reach places to determine what work needs to be done. With the help of the 3D RealSense camera, workers no longer need to go into unknown, potentially dangerous areas to gain a set of eyes on the situation. They can send the camera underground or in tight places and view a live feed on the tablet, this is especially helpful when working with gas lines, electrical lines, or in hard-to-reach, tight spaces.
Rugged tablets offer many solutions for increasing efficiencies on the job, as well as enhancing worker safety and collecting accurate data to improve project timelines and quality of work. When workers have supportive tools for their work, they are more effective in their job. Rugged tablets are the ultimate tool for workers who need to improve productivity and real-time communication. Rugged tablets are an investment that pays back for years to come.
Built with durability and reliability, these tablets are designed for tough environments; where consumer-grade tablets would break easily, rugged tablets withstand drops, vibration, extreme temperatures, spills, and dusty climates.