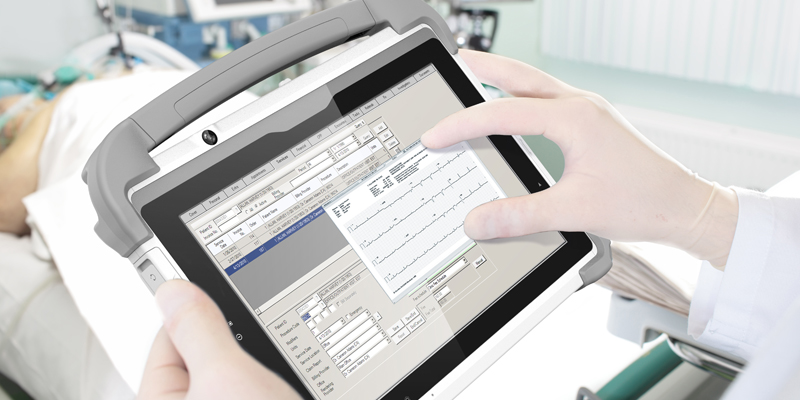 The hospital environment is a complex ecology that requires advanced technology to keep it working efficiently, from medical imaging to patient data. The development of the Internet of Things (IoT) has opened up new opportunities for medical care, illness treatment, and research in the healthcare business.
Streamlining hospital processes and enhancing patient care have long been a priority of the healthcare industry. Performance, reliability, and precision have been critical in medical settings, especially over the last two years amid a global crisis.
Rugged medical tablets can be utilized to simplify operations in hospital corridors, waiting rooms, and nurse stations by allowing paramedics and nurses to rapidly access and preserve patient records.
Medical tablets have several features that aid many situations in healthcare, including:
Ultimate Portability
Rugged tablets have different sizes for different tasks and portability needs. Medical tablets vary from a 6-inch tablet which is lightweight enough to be carried around during an all-day shift; to a 10-inch – larger screen that offers a wider viewing area for medical imaging, telehealth appointments, and medical diagnostics, yet still lightweight enough to be carried from room to room; and the 13-inch – equipped with an even larger screen for visually intensive tasks such as laboratory analysis, viewing x-rays and CT scans, and video chats with healthcare teams or patients. 
These durable and reliable medical tablets can be mounted on a stick cart which is lightweight on a small footprint medical cart that is easily moved from place to place providing flexibility to remove the tablet and carry as needed.
Antibacterial Enclosure
Medical rugged tablets are enhanced with antibacterial properties to minimize bacteria growth and the spread of germs from user to user. Medical tablets have a water-resistant design that allows cleaning of the surface without concern of affecting the internal components. The anti-microbial properties of the enclosure and the fanless design of the tablets help control particulate matter and microbes from floating in the air or resting on surfaces, reducing the spread of bacteria in patient rooms.
Hot-Swappable Battery
DT Research medical tablets offer a hot-swappable battery system that allows batteries to be exchanged without the unit powering down. Each unit comes with an external battery that can be removed while the system is still on and quickly replaced with a charged battery, meaning that the computer can run continuously covering entire shifts, never going down and causing interruption of patient care or loss of data. Additional batteries can be fully charged and be on stand-by so that during busy shifts there is little to no downtime for healthcare teams.
With DT Research medical grade tablets, hospital staff can provide the best possible medical care to patients. By having the equipment they need to effectively and efficiently perform their job tasks, with minimized downtime on shifts, healthcare teams are more productive and efficient. They deserve quality equipment they can depend on, so they can provide their best care to patients in need. 
Medical tablets create seamless communication and collaboration between workers ensuring each patient receives the right care at the right time. They are reliable and durable, withstanding harsh environments that consumer-grade devices do not provide, thus also minimizing the amount of maintenance needed over the years.