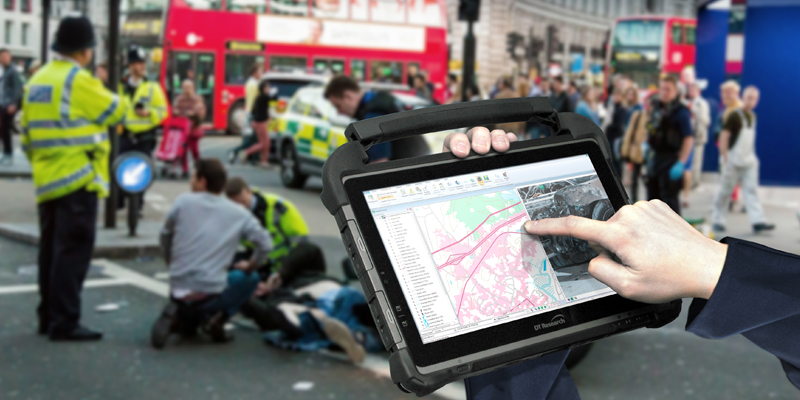 Over the last decade, technology in the public safety industry has advanced considerably. Radios, body cameras, armor, and tactics have all revolutionized how police, fire, and EMS services operate on a regular basis across the country.
When it comes to their equipment, police officers, firefighters, and emergency medical technicians all face unique problems. They require durable technology that can handle the job's demanding–and not always gentle– responsibilities, while also navigating flawlessly, communicating with a central command station, and delivering data-driven judgments.
Even the best-rugged tablet or laptop is only part of the solution; you still have to connect it to your docking station, keyboard, and software. DT Research solves this with the DT301Y tablets which provide multiple features required to perform in the public safety setting effectively while connecting with top software to ensure performance is top of the line.
Here are a few reasons why the DT301Y is the Ideal Tablet for Public Safety:
Survey grade GNSS module for creating Ground Control Points –  This substantially modifies how forensic mapping and collision reconstruction are handled in the field, allowing investigators to use and improve the precision of satellite-based positioning data.

Intel RealSense Depth 3D Camera for creating Point Clouds – Depth perception is integrated into this technology to keep visuals accurate, factual, and constant. A 3D RealSense camera can be used to document a problem-prone intersection or to gather data at an accident scene, allowing for faster documentation and cleanup.

Long Range Bluetooth (1000ft.) to control and collect data from Robotic Total Stations – a Robotic Total Station (RTS) is a Total Station that allows remote operation. This means you only need one operator and can perform far more calculations and inspections in less time than with a traditional Total Station.

 4G LTE for instant Data Communication– 4G LTE ensures a fast device, allowing responders to send photos and videos to and from central command in little to no time, and find a speedy, reliable route to wherever they need to go, even in trouble spots where reception is limited.
 
2D Scanner for reading Driver IDs– DT301Y provides the versatility of a mobile device and the computing power of a computer. Public safety officers can easily detect fraud, verify IDs, quickly collect customer information, and streamline paperwork by using a tablet with an integrated 2D scanner. This provides mobility for the workforce of the public safety officer with the equipment needed to perform even while on the move or in the field.
 
Front and back cameras for Real-Time Video Conferencing – this assures field officers can stay connected, perform real-time reporting, communications, mapping, and more to keep communities safe. Video conferencing also improves communication while on the go with the field office should they need dispatch to be involved in the call.  
Other Key Features
IP65
MIL-STD-810G & MIL-STD-461F
 HERO Certification
 Intel 10th Gen i7
 High-bright 800 nits screen
 Detachable keyboard
 Smart card reader
 Vehicle and Pole Mount Cradles
 High Capacity Hot Swappable batteries
 NIST compliant and BIOS available
Mobility is crucial when it comes to public safety. The DT Research DT301Y tablet allows police, firefighters, and EMS organizations to respond, react, and report from the palm of their hands, no matter where they are and regardless of the reception. It is the perfect companion for crucial environments where dependability is crucial to provide patient care.