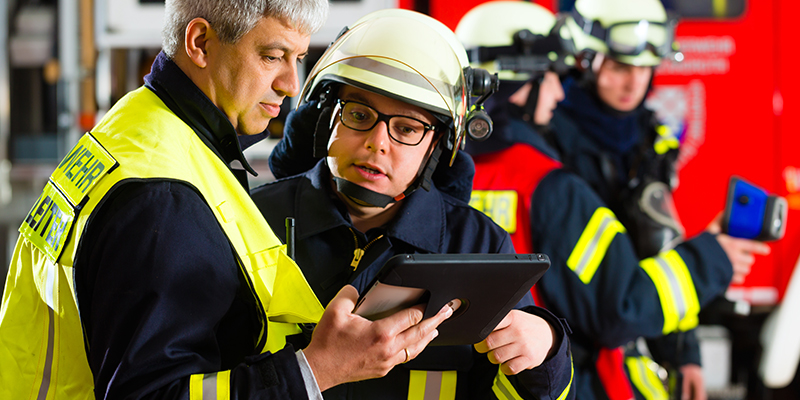 It is vital to be able to respond successfully in real-time as a firefighter or member of an emergency response team because it can be the difference between life and death. Information is the most important component in empowering firefighters to make decisions during fires, especially since events might change quickly. When they arrive on the scene, the more information they have, the more swiftly they can deal with the event and avoid any potential threats.
They may also turn any emergency vehicle into a mobile command center with the necessary software and hardware technology to coordinate all communication, assess risk information, standby to manage staff, and track the status of the crisis as it unfolds. These can only be accomplished effectively with mobile devices that meet both software and hardware requirements.
Why a Rugged Tablet for Firefighters?
Information is delivered practically instantly to the command center, among other things, thanks to reliable rugged equipment. These devices, which are often rugged tablets, also give real-time information, data security, and overall crucial awareness. The use of the most up-to-date fire safety and intelligence software is also vital since it puts critical information like building schematics and hazardous information directly in the hands of firefighters, allowing them to prepare for incidents more effectively. This software is compatible with rugged tablets and can easily convert data for use by teams. 
Rugged Accessibility
Rugged tablets for firefighters are extremely useful communication devices, particularly in rural areas. They offer several built-in wireless technologies – 4G/5G, WiFi, and push-to-talk (PTT) – assist in keeping crews linked at all times. The dependable signal also ensures that front-line responders, no matter how far away from the station they are, can access mission-critical back-office systems for response planning, incident reporting, and real-time decision making.
Artificial Intelligence
Rugged tablets equipped with cloud computing and artificial intelligence, allow them to transform mapping data as well as capture imagery and display any fire damage. Physical inspections by fire inspectors with clipboards or phone apps might take weeks to process data and information, whereas a rugged tablet driven by AI can process enormous amounts of data in hours. AI technology has quickly become an asset for fire teams and crews to collect, sift through, and interpret data to assist firefighters when approaching and fighting a fire. 
AI can also be used by fire teams to predict trouble areas when coming into dry season by analyzing past data and information that has been collected, as well as current information to provide real-time reporting and predictions on trouble areas. Rugged tablets provide a lightweight, portable solution that can be carried into the field, used in fire trucks or helicopters via a vehicle mount, or used by dispatchers who need additional mobility.
Durability and Reliability in Extreme Situations
Rugged tablets are designed and manufactured to withstand a wide range of temperatures, accidental drops, and limited connectivity, which are all significant. Rugged tablets can do all of this and more – they look and feel strong, and the utility of their physical characteristics is just as crucial as what they have inside.
The decision to invest in tough devices should be based on a number of factors, with device quality always being a top concern. For police and fire agencies, progressive digitalization is becoming increasingly vital.
The right software and hardware can help fire teams succeed in their internal operation, fire fighting and ultimately helps save lives. It's critical that the hardware is both durable and portable, with a wide range of connectivity options and good performance even in desolate or rural areas. In emergency situations, proper tech equipment, such as DT Research rugged tablets is vital.