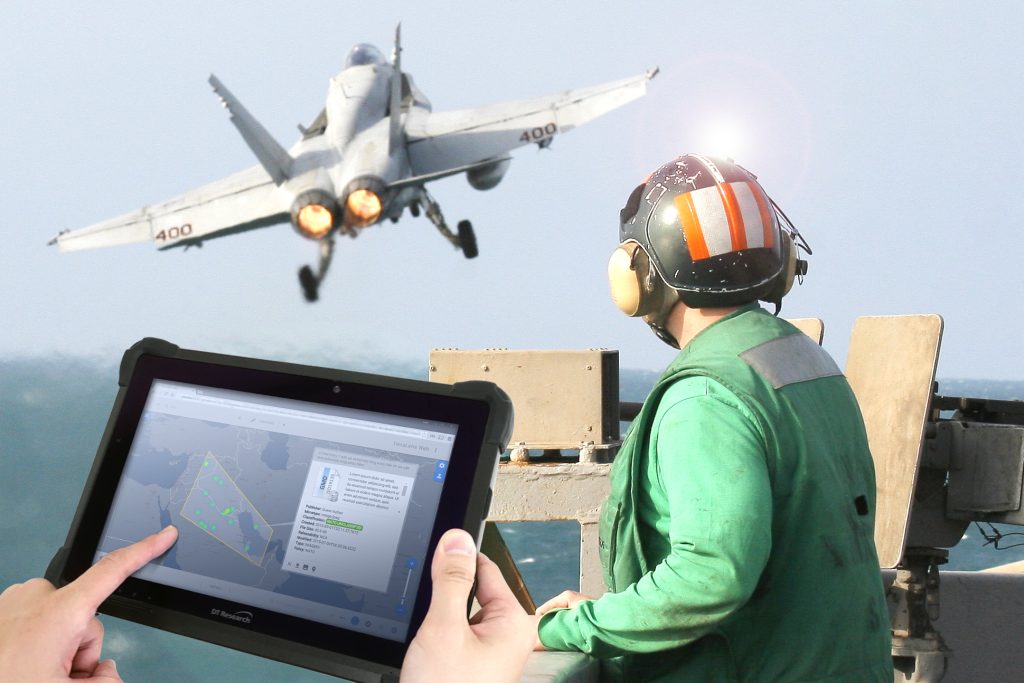 The Navy's public shipyards are essential for maintaining the readiness of its aircraft carriers and submarines, as well as supporting continuous operations across the world. The Navy can use these shipyards to execute depot-level maintenance, emergency repairs, ship upgrades, and fleet-wide ship downtime.
Shipyards must fight potential aging or poor condition of its infrastructure lest they struggle to satisfy the Navy's operational needs, dry docks, facilities in need of updates, and equipment in need of maintenance must be dealt with efficiently otherwise there will be lost operating days and thousands of lost operating hours,  days when ships are unavailable for operations—across the Navy's submarine and aircraft carrier fleets losses attributed to inadequate facilities and equipment.
Shipyards can properly service the fleet of aircraft carriers and submarines for planned depot maintenance periods with military-grade tablets to assist Navy logistics teams in coordinating all needed repairs, maintenance needs, and tracking of equipment and assets. Timely and effective maintenance repairs, as well as keeping marine services maintained are all necessary for optimal operations to reduce delays.
Rugged tablets are needed for supply chain logistics to track inventory, manage maintenance records, and offer efficient logistical data management. Below are several ways military-grade tablets assist supply logistics for the Navy.
Supply Chain and Shipyard Operations
Supply chain logistics for the military heavily rely upon supply chain resiliency and fast-tracking of supplies and real-time communication to enable more accurate and timely decisions of resupply operations. Rugged tablets aid personnel responsible for managing inventory in shipyards by scanning all shipments as they enter the warehouse to confirm the content of the packages, monitor for damaged goods and update inventory logs as the inventory comes in, in real-time.
Improved productivity and Increase efficiencies
Navy personnel save significant time as they securely access data and images within a variety of environments using a highly durable, yet lightweight mobile device that has been purpose-built for their needs. Military-grade tablets are integrated with data-capture and software to deliver greater productivity with data-driven insights such as predictive maintenance, better forecasting, and more optimal maintenance scheduling for improved workflow.
Shipyard Security
DT Research rugged tablets provide integrated hardware-software security and take full advantage of modern Windows 10 security features such as Device Guard enterprise hardware and software protection, which restricts the tablet's use for trusted applications. These rugged computing devices have "lockdown" capabilities that safeguard against malicious users while also providing a custom-designed user experience and improving system stability.
The DT311 combines operating system software security with unique hardware security, including a media sanitization option that meets both NSA and USA-AF/Navy/Army requirements. Instant blackout, as well as automatic wireless technology, RFID, and WiFi disable functions that can be pre-configured to switch off all radio capabilities under specified conditions, are available as hardware security options. It is a full-featured, lightweight, and ruggedized tablet designed for military operations in harsh conditions.
Military-grade tablets enable supply chain logistics to be more efficient and teams to be more productive. Personnel can make data-driven decisions for fleet management, inventory needs, and maintenance management utilizing rugged tablets built for the mission. Rugged tablets are lightweight devices that can be carried into the field and used in the office.
They are the chosen device for the Navy for user-friendliness as well as security.