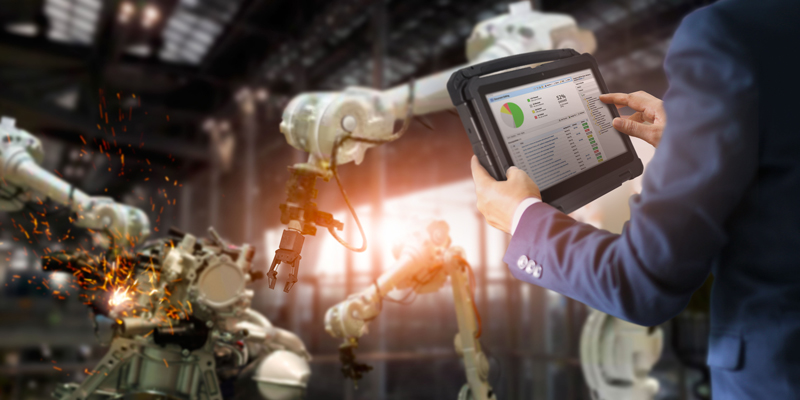 Preventive maintenance was used to fine-tune equipment availability rates on the production floor in conventional manufacturing. Suppliers and vendors would set a predetermined service schedule for entire fleets of assets, and parts would be replaced when needed, whether or not they were needed.
Predictive maintenance, on the other hand, is based on the idea that machine floor assets should be monitored on a regular basis and fixed before they fail. While Preventive Maintenance is one step ahead of its preventive equivalent, both operations, which include human work and industrial downtime, are costly and can severely hurt a company's bottom line.
Rather than performing manual machine checks on a daily, weekly, or monthly basis or having repair teams arrive after a problem has arisen, sensors can automatically monitor the conditions – temperature, pressure, humidity, and any other deviations from the ideal levels. When a mechanical problem is imminent, the sensors warn management and the appropriate departments. Companies can plan ahead of time to ensure that the equipment never skips a beat.
Why rugged tablets are best for predictive maintenance:
Data Collection
Data generated by shop floor assets are continuously monitored and processed by machine learning algorithms, which can then accurately forecast what will happen next on the conveyor belt. In essence, today's lean manufacturing is based on a new type of predictive maintenance that uses historical asset performance data to forecast future outcomes. Manufacturing organizations can use this information to schedule workers just when needed and maximize asset availability.
Machine learning models, for example, use historical data to forecast the future and then learn from the present to improve their own forecasts.
Digital Twins
Digital twin technology creates a 3D-digital view that offers the worker more information than the real part itself. The worker can digitally move the object around and obtain information about various sections or pieces of the equipment. The speed of knowledge discovery increases dramatically when AI and the worker analyze the parts at the same time–yet another technique to avoid reworks, machine breakdowns, and keep production going at a steady pace.
Streamline Repairs and Maintenance
Rugged tablet and laptop computers are the perfect fit for maintenance and repair providers looking to track inventory, manage fieldwork, and monitor vehicles in a more convenient way.
Scheduling and providing services and repairs in an as efficient way as possible is key. Water, electricity, natural gas, and sanitation utilities manage huge amounts of information related to employees, customers, and regulations that have to be collected and analyzed somewhere.
Durability
Rugged tablets are manufactured to work in tough conditions where dust, dirt, strong vibrations, and accidental drops can happen. They will keep working even if the conditions aren't perfect. Making them the rugged tool that can literally go anywhere and be used between multiple departments.
By using powerful rugged handheld tablets, workers not only save time, they also maximize productivity. They're also doing it in a more secure and futureproof way. Rugged tablets are built for warehousing floors, production lines, field use and many other types of environments. 
They quickly and efficiently record data which is updated in real-time for all personnel and teams to view which improves data driven decision making. Rugged tablets are manufactured with RFID and smart card readers for an added layer of security, so data is only accessible to those with credentials to log into it.