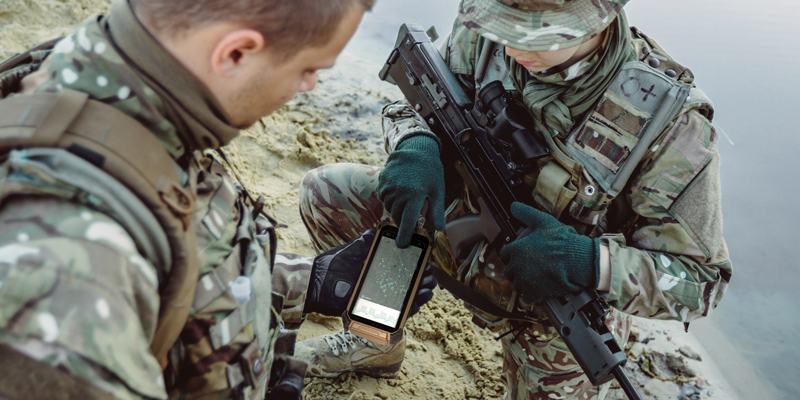 Marines' rugged tablets are critical in all operations that require a high level of precision and sophistication. They are an essential component of mission-critical equipment that are becoming increasingly important for asset tracking, security, and field operations. These tough military-grade portable computers are designed to provide durability and versatility in the office or in the field to improve user experience and service delivery.
Three ways rugged tablets improve operations for Marines:
Digital Operability
The purpose of digital interoperability is to provide the appropriate information to the right people at the right time, all while increasing efficiency, effectiveness, and situational awareness. The military environment can be harsh, however, rugged handheld tablets can withstand such conditions from extreme weather climates to high vibration environments. That's why military-grade tablets need circular military connectors or the type that allows tough devices to withstand strong shocks and vibrations, as well as long exposure to noise from military vehicles, or aerospace environments.
Provide tools expected by digital natives
To stay in the lead, today's Marines need to be proficient in several skills and systems, while staying competitive. These multiple military specialties would be supplemented by areas of interest to the Marines — coding like being able to do some kind of programming on phone, flying drones, and more. As a result, the military must invest in data-driven tools and models to direct recruits to specialties where they can develop their skills, and make data-based decisions on the base and in the field.
Military personnel can engage with information and machinery more easily with rugged tablets. They are the go-to device for mission-critical technology that is highly dependable and ready for the task at hand.
Remote device management
Military-grade tablets, unlike consumer-grade tablets, may be used almost anywhere and give accurate real-time data for speedy decision-making in time-sensitive situations.
When military is deployed into the field, high-tech ruggedized computers that can survive difficult working environments are in high demand. Military-grade tablets are built to withstand such demanding remote working situations while yet providing continuous real-time data for easier command-base decision-making. Base commanders can use integrated individual rugged military-grade tablets to give instructions, issue risk alerts, and receive intelligence reports. Rugged tablets can be monitored, managed, and wiped remotely should they be lost in the field or left at a location where data could be compromised.
Cloud computing just like big data, data analytics, IoT, artificial intelligence, augmented reality, and blockchain are all being used as change facilitators in the defense industry, at both the agency and operational levels.
While ordinary tablets have many uses, they are also rather fragile. Durability and ruggedness are the most significant features of rugged handhelds and military-grade tablets, are the best computing device suited for individuals who work in outdoor areas, warehouses, or in extreme conditions, such as the Special Forces.