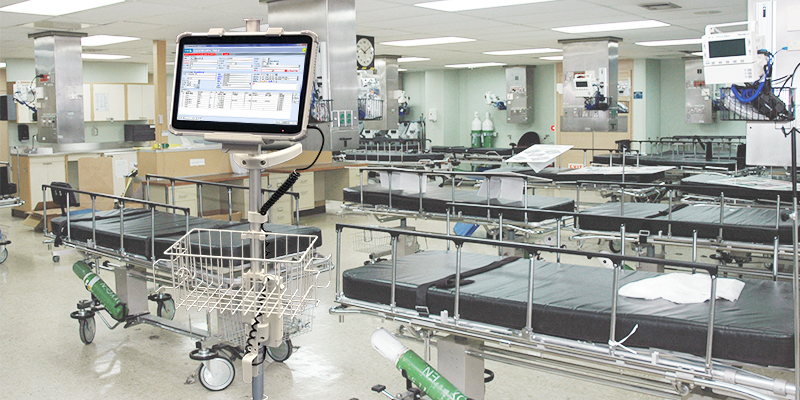 In today's healthcare environment, healthcare personnel needs versatility in their technology, as well as reliability and durability. Some personnel has needs that require mobility and the need for small, portable devices that can easily be carried in the pocket of their uniform. While others have the need for a large screen that can handle viewing large graphics such as x-rays and test results.
No matter what the needs are, every healthcare professional requires technology that enables them to be efficient with their job, durability that will survive demanding types of environments, and the ability to give patients the best care possible.
Medical tablets and medical cart computers are manufactured to meet the demands of healthcare professionals no matter their role, or their needs. With a range of sizes, our rugged tablets and medical cart computers are purpose-built for the healthcare industry.
Three Reasons Our Healthcare Solutions Are Industry Rated
Range in Sizes:
From medical tablets to medical cart computers, we offer a range of sizes to meet the needs of every healthcare worker. From a six-inch ultra portable handheld tablet that can be put in a coat pocket to a 17-inch wide-screen tablet that can be put on a rolling slim cart and wheeled from room to room, each solution meets a different need. For healthcare professionals that need to view high-resolution graphics – the 17-inch screen is perfect. This is equipped with a front and rear camera for telehealth and image capture when needed, to be reviewed by a medical team.
The 6-inch is light and ultra portable to be taken from room to room where space is needed and being mobile is best for patient care. There are also medical tablet size ranges in between with a 10.1-inch screen, 13.3-inch screen, and a 15.6-inch screen all offering mobility and portability to get the job done. The medical cart computers offer all-in-one systems with touchscreens from 19 inches to 27 inches that are VESA mountable to easily mount onto a movable arm or create a workstation with wheels. 
Mobile Workstation:
Any of the medical tablets can be put on a slim cart with wheels to enable it to be a mobile workstation. For example, if the tablet is needed in a room with a lot of medical equipment already taking up most of the space, but one more computer is needed in the room to log patient data, provide medicines, or document work being done on the patient, this small-footprint mobile workstation can be squeezed in with the other equipment. It can be wheeled into the room when needed and wheeled out of the room when it is no longer needed to save space in the room.
The same tablet can then be taken out of the cart cradle, and carried by hand to be used in another room when needed, making it the ideal mobile workstation used across multiple areas, thus saving money by using one device that can be used in a variety of settings by many different healthcare staff who may have to travel to many different parts of a healthcare facility or in the field.  The 6-inch medical tablet can be placed on a belt or in a pocket to go where larger tablets or medical carts are too large or difficult to move around.   For areas that have space for medical cart computers where larger screens are required, these reliable, integrated touchscreen Intel systems provide powerful workstations on wheels.
Battery Options for 24/7 Usage
Both medical cart computers and medical tablets offer extended battery options that reduce downtime during shifts from a battery needing to be recharged. A battery holster goes on the stick cart where multiple charged batteries can be carried around with the tablet, when a battery runs out of charge, a new battery can be swapped out in real-time without the system turning off.
This hot-swappable battery option reduces downtime on shifts and increases productivity and efficiency of patient care. These hot-swappable batteries can also power other systems like a medication label printer on the cart or temperature gauge, and other medical devices.
With a CAC/smart card reader for an added layer of security for patient data, only personnel with the appropriate credentials to view patient accounts will have access. Barcode and RFID scanners allow the patient medication to easily be scanned from the device and logged as to when the medication was administered and when it will be due again.
All data entered into the medical tablet or cart computer is updated in real-time so all medical teams with access to the patient data can review all pertinent information as needed to make decisions based off the data in real-time.
Medical tablets and medical cart computers offer efficiency, versatility, and durability for the best patient care offered in a healthcare setting. Each tablet and computer is manufactured with durability in mind – they can withstand bumps, spills, vibrations, and even high temperatures. Making this medical technology solution the chosen device among healthcare institutions, hospitals, and outpatient centers globally.