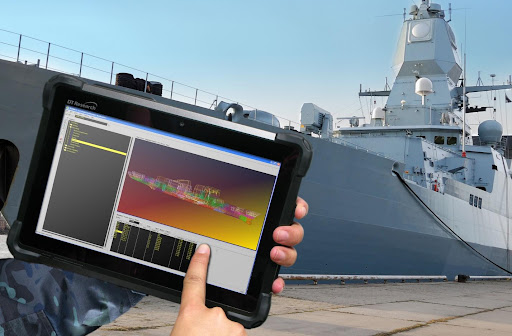 One of the six military branches in the United States is the Coast Guard. It defends against internal and external dangers that are both natural and man-made, including threats to people's personal safety and security, the marine transportation system and infrastructure, natural and economic resources, and the territorial integrity of a country. In addition, the Coast Guard also protects interests in U.S. ports, inland waterways, along the coasts, and in international waters.
The Coast Guard is such a unique branch of the military responsible for an array of maritime duties, it also needs specific technology to perform many of its duties.
Navigation and Marine Safety
The Coast Guard's responsibility for maintaining maritime aid to navigation is a significant task. The Coast Guard also ensures that this network of signs, symbols, buoys, markers, lighthouses, and regulations is up to date and operating properly so recreational and commercial boaters can safely navigate the maritime environment.
The most commonly used method for marine navigation is GPS. However, using it with a typical tablet can be a little difficult. A robust, rugged tablet or convertible laptop can help in this situation. These rugged computers have extra features like water-resistant IP65 and MIL-STD-810 approved cases, GNSS and GIS mapping applications, or satellite connectivity that are made specifically for the military to use on boats.
While the majority of seasoned navigators will continue to rely on basic GPS systems using rugged tablets or convertible laptops with integrated navigation and radar systems helps gather information about harbors, dangers, and other issues, which can be up on demand by simply tapping on the screen. Rugged tablets can have fully integrated GNSS to give accurate mapping that is then used in conjunction with other programs on the laptop/tablet for improved data-driven decision-making.
Fleet Maintenance and Repairs
To ensure the availability of safe and reliable vessels, the U.S. Coast Guard employs measures to ensure that vessels stay in good working order and extend the lives of older vessels until new ships are built. Performing regular inspections—both visual inspections and more in-depth inspections by maintenance technicians. This prevents unexpected downtime and breakdowns because problems are caught and corrected before the engine fails.
The DT362GL, 363GL, and DT382GL rugged handheld tablets assist the Coast Guard in their fleet maintenance by adapting asset tagging that allows maintenance and field workers to walk up to an asset, scan the barcode or RFID tag, and perform needed repairs. It allows users to look up asset details, view maintenance records, or create a work order for the asset.
These handhelds feature the integration of a brilliant 6″ and 8" capacitive touch screen and a high-performance yet energy-efficient processor within a slim, lightweight, durable package. With built-in Wi-Fi and a smart card reader as well as options for back camera, barcode scanner, GNSS, NFC, and UHF RFID reader, these robust handheld tablets offer seamless information capture and transmission for improved workflow in the Coast Guard.
Rugged tablets are built to withstand the demanding kind of environments the Coast Guard works in – from vibrations on a boat to a vehicle dock in a helicopter. Drops and even water will not ruin a rugged tablet, they are built to go into the field or be used on the base and can perform well in tight spaces whether in an engine room or cockpit to warehouse. 
This makes them a perfect match for maritime duties, reliable and durable no matter the circumstances.