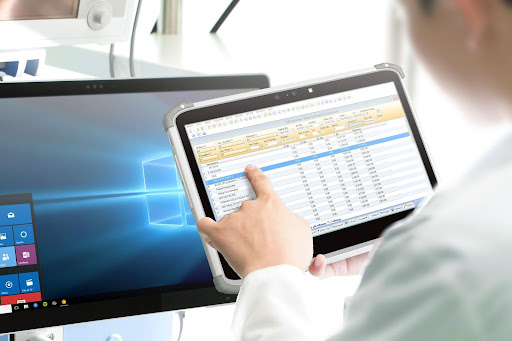 An essential component of healthcare, public health, and public safety is emergency medical services (EMS). EMS provides 24/7 patient care in the form of first-line medical or emergency care for sick and injured people at the scene, whether in the person's home or at an accident site, and while they are being transported to the hospital for care.
Dispatch, first responders, ambulance agencies, fire departments, and hospitals are just a few of the entities that make up the highly integrated and complex systems that provide EMS services. These entities work together to provide emergency care, which may include assessment, treatment, and transport by ground ambulance or air medical services.
Given the unique challenges of EMS, billing for these services is also different from other healthcare industries, including medical billing.
Here's why rugged tablets are great for EMS medical billing:
1.     Enables easy access to patient records – Responders use rugged tablets to enable access to patient records easily, including medication and insurance status. Using a rugged tablet, emergency medical teams can send patient information, insurance details, and treatment eligibility checks to the hospital while still in route.
2.     Streamlined Workflow – Rugged tablets aid in streamlining the entire staff workflow for medical billing solutions, from pre-registration to payment collection. In order to reduce costly paperwork, data input errors, and transcription mistakes, particularly those involving basic patient and insurance information, medical tablets are combined with the latest and secure card readers. A medical ID card and a staff security access card may be instantly read by rugged tablets, delivering the precise information at the level of clearance to each user.
3.     Reduced administrative expenses – Administrative costs for providers increase as a result of manual invoicing and processing. By automating administrative activities, rugged tablets can significantly save costs, particularly when used with medical billing systems.
4. Minimized errors and loss of payments– With a medical billing system, providers need not worry about data errors and lost payments. Rugged tablets can be combined with an automated billing system that reduces errors, streamlines the payment process, and ultimately increases income for hospitals or providers faster than manual billing.
5.     Improved claims tracking– The processing of claims is expedited when hospital billing systems are in place. Utilizing medical tablets claims tracking is done automatically and in real-time. Alerts are sent when a piece of information is missing so that it can be corrected quickly and claims can be sped up. All members with access to the network can view the information needed to treat patients and see the status of the claim at all times.  
6.     Improvement in patient care– Medical billing solutions simplify the payment process thus boosting patient care and experience. It also improves patient engagement systems.  Medical tablets can be used in an office for checking patients in or in the patient room to log all pertinent information into the system in real-time.
Over the past several decades, medical billing procedures have changed. Hospital medical billing systems benefit providers, who go from a manual, paper-based medical billing and coding procedure to full automation. With the help of the right software and rugged tablets from DT Research, dispatch, first responders on the scene, and hospital staff can all access the same data entry and review it in real-time. 
And, because electronic patient charting ensures that all pertinent information may be accessible at any time by any party involved in patient care, information sharing is quick and patient care is improved.
Medical tablets are durable and built to withstand fast-paced environments as well as be used to treat patients via telemedicine. Rugged tablets for medical billing improves patient care, speed up billing, and improve internal communication between departments involved in assisting patients with care, a win-win for everyone involved.