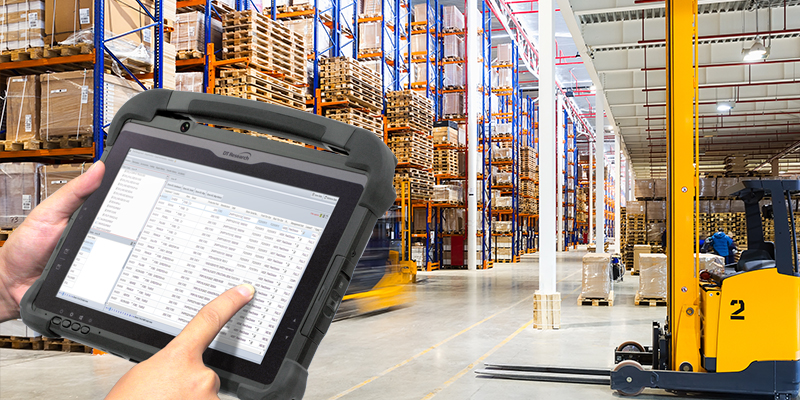 The number of online orders has already increased steadily over the last ten years. Over the last two years, the strains made on the supply chain have also provided a completely new perspective for ordering products online rather than going to the store. Even individuals who would have ordinarily done their shopping the traditional way were suddenly dependent on the realm of online shopping due to lockdowns and communication restrictions. Thus, companies learned to adapt to the changing times in order to survive—the pandemic and customer demand.
With the dawn of handhelds and mobile computers, rugged tablets reduced operating costs and improved customer satisfaction.  Tablets improve estimation, space allocation, load planning, proof of pick-up and delivery conditions, invoicing, insurance compliance, and other activities in the shipping logistics sector.
The rugged tablet is a must for the transportation and logistics industry. Rugged tablets for shipping logistics help streamline the tracking and dispatching process and reduce paper use in truck cabs. Companies can track the temperature from loading to delivery and storage with these handheld tablets, and they can be connected with other transportation technology– a fantastic time-saving option for the logistics and transportation sector.
Rugged Tablets take Shipping Logistics to the Next Level
Sizing and dimensioning in Seconds
Rugged tablets are the modern solution for capturing box dimensions quickly and accurately. No need for an expensive stationary dimensioning system – just carry the rugged tablet you use every day to get the exact size and dimensions of boxes or truck space. These maximize space, increase efficiency, reduce cost, and save money.
This easy-to-use, point-and-click solution helps companies:
Collect precise measurements and lower costs by enabling shipping departments to make wise choices regarding boxes that are too big for parcel systems and should be shipped as freight.
Boost productivity by gathering product item details, such as measurements, scale weight, pictures, barcodes, and RFID (Radio Frequency Identification) information that are made available in real time for everyone involved in the process.
Make better use of the available space in the truck trailers and distribution hubs to maximize space with precise measurements of packages to determine how much room is needed per package.
Smart scanning and tagging with RFID
Inventory control is a chore that can quickly become very tedious. This is particularly true since you must always be aware of the merchandise that is being delivered to and picked up from warehouses. However, that inconvenience can be readily removed with the use of RFID tags, scanned by rugged tablets.
The whereabouts of a product can be tracked throughout warehouses thanks to RFID tags. This is due to the RFID tags that are present on every package and the RFID readers that are present in every warehouse. Upon entering and leaving the warehouse, the RFID reading device automatically scans the RFID tags.
RFID tags can be scanned in batches, even from far away, and are capable of tracking an item all the way through to the shelf, thus reducing the potential for lost items.
Other tasks benefit greatly from using rugged tablets. They can be applied to assessing limits, cargo tracking, and other tasks. The robust tablets have a variety of functions, including tracking goods. It enables warehouse staff to track parcels in real-time, reducing the chance of any shipping-related disasters.
A rugged tablet is a great option for the shipping industry. Its RFID reader and barcode scanners enable drivers to keep track of packages in real-time, and cameras provide proof of arrival and evidence for any damages. The ability to track packages is a major benefit for clients. Having a secure and reliable device will prevent any loss of products. With the right device, a rugged tablet will save both money and time. And it increases the efficiency of the whole process for the shipping and logistics industry.