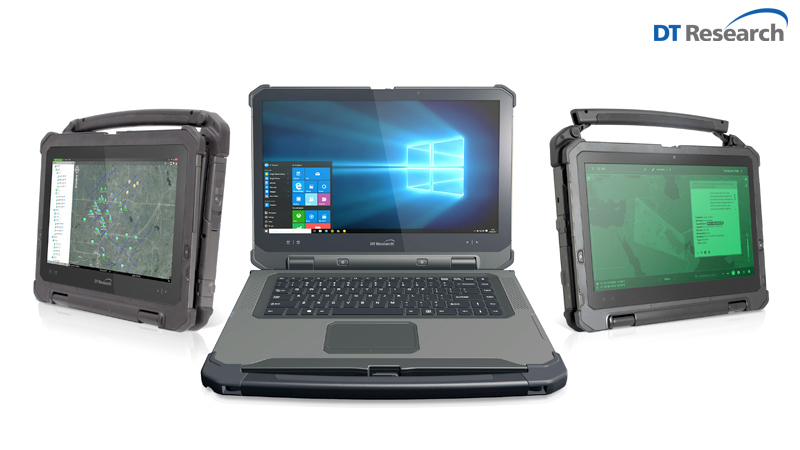 Standard laptops are becoming a thing of the past, as newer innovative 2-in-1 convertible laptops provide all the benefits of traditional laptops, but with more flexibility. Convertibles – commonly called 2-in-1s or, somewhat mistakenly, hybrid laptops — are more powerful than tablets while offering greater usability than conventional laptops. They provide the same cutting-edge touchscreen features that owners of those devices have grown to enjoy when used as a tablet. While also, functions as a laptop and offers the keyboard, processing capability, and other capabilities of a more sophisticated PC.
Having a bulky laptop in tight situations such as maintenance rooms, field offices or warehouses can prove to be logistically challenging to work with should the space be too small to fit a regular sized laptop or without a surface to set it on. Work smarter while on the go with rugged convertible laptops.
Advantages of a convertible laptop
In comparison to standard laptops or tablets, a rugged convertible laptop has the following benefits:
In addition to having tablet functionality, 2-in-1 convertible laptops are great for field/office use because they can have  more storage than normal tablets.
The touch screen tablet capabilities give typical laptop users a new perspective. They can now sketch out ideas during brainstorming sessions, and enter data while working on the shop floor, in an engine room, and in other tight spaces.
Purpose-built for field offices and constrained spaces, convertible rugged laptops can transform into a tablet with minimal effort and space, .
Those who already need to work with other tech devices and don't want to choose between using a laptop or tablet can carry one computer and find that 2-in-1 convertible laptops reduce the amount of equipment needed.
The 360 Rotation capability quickly transforms from laptop to tablet and back again. This type of 2-in-1 is the best choice if you're planning on using the keyboard a lot, move from a larger space where you are using a laptop, to a tighter space where a tablet is needed. So, you have the device you need when and where you need it.
Why DT Research Rugged Convertible Laptops?
The LT Rugged Convertible Laptops come with a high-bright screen – 11.6" 13.3", or 15.6", an Intel® Core™ i processor, and a full-size backlit keyboard with multi-touch pad. With a built-in smart card/CAC reader, the LT Rugged Laptops also offer sophisticated advanced identity verification for secure data access. 
The night vision option supports viewing MIL-STD-3009 class B NVIS mode, offering another layer of security for light-sensitive situations or where tablets need to be used at night in a discreet mode. Rated IP65 and MIL-STD-810G, supporting a wide temperature range, the LT Rugged Laptops provide reliable operation in harsh, mission-critical environments.
From microgrid management for power companies to fire department inspections to military bases, work that needs to be completed on the move can be done with a rugged convertible laptop while more text-intensive tasks can be completed with a compact keyboard that can easily travel with workers to their job site – flexibility and functionality are indeed found in a rugged convertible laptop.