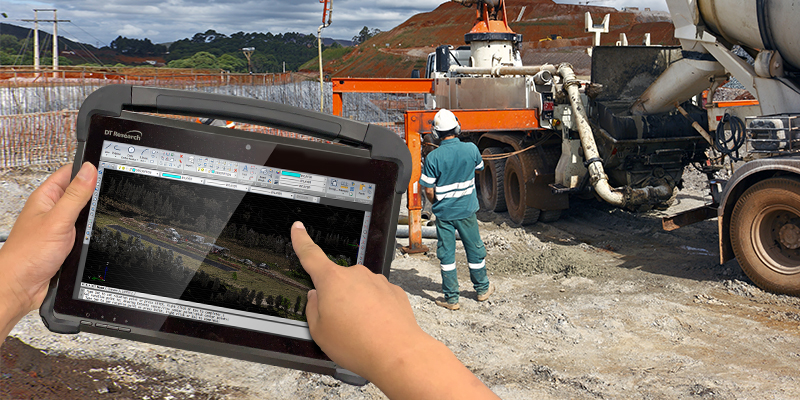 Infrastructure projects are a necessity to maintaining cities nationwide. Knowing when specific areas of city infrastructure need to be updated, maintenance or replaced is crucial to knowing when projects need to be scheduled. Throughout each city, crews are responsible for checking utility lines, water lines underground, where wires, pipes, and cables are located. 

Rugged tablets aid city infrastructure projects by helping to track when maintenance is completed or needs to be done, track all the moving parts of the projects, help teams communicate in real-time, and keep crews safe by doing much of the leg work to identify where parts are underground.
Advanced Safety for Crew Members:
The 3D RealSense camera integrates directly with a rugged tablet and can be used to go underground to check utility lines, water pipes, and electrical wires and cables to identify where a line may be broken or where wires are exposed, for example. This offers additional safety for utility workers and crew by not requiring a person to go underground into what could potentially be unsafe territory to locate a gas leak, electrical issue, or broken utility line. The tablet with 3D RealSense camera attaches to a line that can go underground to assess the area, take pictures, and document the findings prior to a person going in, reducing the risk for team members.
Real-Time Updates:
All information collected from the 3D RealSense camera is logged into the network immediately and stored through the rugged tablet to the network, making the information available in real-time to anyone with secure access to the network. 
Precise Measurements:
Utilizing rugged tablets with an integrated 3D RealSense cameras to take accurate, precise measurements of needs at the project site improves the management of infrastructure projects. These measurements can be used in a Digital Twin model of the project to produce accurate drawings and replicas of the details of every aspect of the project, and dimensions and materials needed. This Digital Twin representation can then be utilized for updates, changes, and approvals prior to crews being sent to do the work. 
Rugged Durability:
Rugged tablets can also be used in the field during the length of the project to view renderings, make updates to the project, and document all progress in real-time. Rugged tablets are built with durability in mind to withstand vibration, dust, and harsh environments. Rugged tablets will withstand extreme temperatures both hot and cold for work during extreme summer weather or wintery conditions. Rugged tablets for infrastructure projects have capacitive touch screens with lighting control that allows for increased screen brightness for daytime use in direct sunlight and lower backlit screens for nighttime use. 
Rugged tablets with the 3D RealSense camera are built for aiding infrastructure projects – aiding the safety of workers, offering real-time communication and durability in the field. With the accurate and precise measurements, this is the perfect technology for hard-to-deliver infrastructure sites.