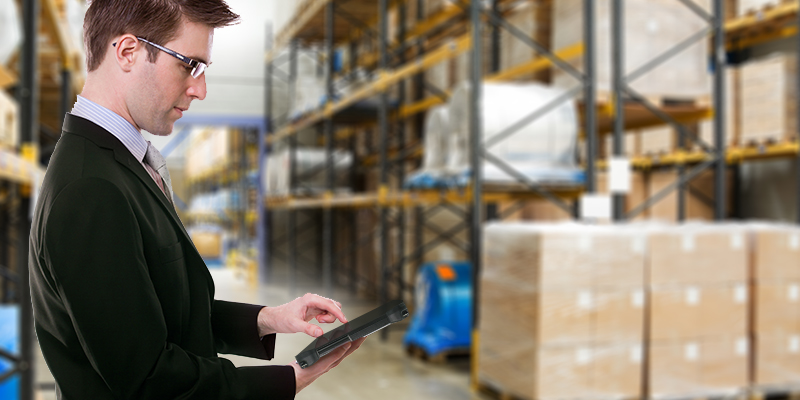 Rugged tablets for warehouse use can take package handling to the next level, streamlining processes up and down the aisles increases efficiency, boosts productivity, and creates smarter ways of working.

Workflows for warehouse, package handling, and delivery tasks can be made more efficient with rugged tablets, making more productive and freeing up time for high-priority tasks. Rugged tablets with multiple features for warehouse use can help cut time, reduce paperwork, decrease the incidence of accident, injury, or errors, and improve overall efficiency of warehouse process from top to bottom.

Industrial grade, purpose built tablets are ideal for the harsh environment of the warehouse floor. Forklift mount options can keep tablets securely docked and carrying cases enable hands free transport. Rugged tablets are also built tough, to provide protection against drops, falls, and other forms of shock.

Military standards regarding extreme temperatures are adhered to, meaning there isn't a situation in which heat or cold will be likely to cause malfunction in a warehouse. Resistance to water, dust and sand is also up to military specifications, for a tablet that will withstand hard use and rough environments with ease.

Tablets can be utilized to monitor and diagnose package moving machinery in the warehouse, reading codes and sending messages to appropriate personnel in case repairs are required before checking to see where the closest replacement equipment is located or altering schedules to account for a limited range of options.

Problems can even be spotted ahead of a malfunction, noting a decrease in efficiency and prompting a check which could result in a fast recalibration or repair and a return to full steam eliminating costly downtime and keeping manufacturing at full production.

Tablets are also invaluable for tracking packages, using barcodes or RFID tags to swiftly inventory packages, check for verification, sort and distribute, and prepare for shipment as needed. Every package can be tracked in this manner in real time, and consumer side advantages include the ability to find out where their package is and track it to themselves.

Tablets can be used to scan unknown packages, contact other members of the workforce, report to superiors, and capture signatures and visual data. They are the perfect device for enhanced package handling in times of high volume production.

Slim and portable, these tablets can resist many forms of physical damage while still performing effectively, giving reliable performance for logistics and handling.